» 1990s, Pop » Back for Good – Take That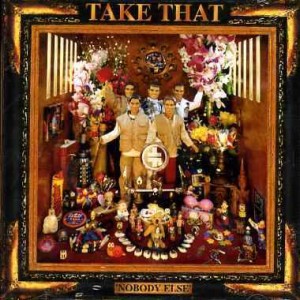 Remember 1995? Sure you do. It was the year boy band Boyz II Men owned the charts with two of the longest-running #1 songs of all time. In fact, their duet with Mariah Carey on "One Sweet Day" still holds the record for the song to hold the number one position on the Billboard Hot 100 for 16 weeks. That's four months, my friends. That's a really, really long time.
If you remember Boyz II Men, you no doubt remember the British boy band called Take That. In the early 1990s, they notched multiple number one hits on the British charts, but chart success in the United States proved elusive. Until "Back for Good" hit the airwaves.
This sensitive ballad quickly raced to the number one position in England in March 2005 and sold 300,000 copies in its first week. Four weeks later it was still number one and hold sold nearly 1 million copies.
Listen to "Back for Good" by Take That
Read the "Back for Good" lyrics
American listeners didn't love the song nearly as much. But they did love it enough to propel it all the way to #7 on the Billboard Hot 100. That was good enough to secure one-hit wonder status for one of England's brightest boy-band talents. A band that also launched the career of Robbie Williams who has 30 Top 40 singles in Britain but has not yet landed a single song in the American Top 40.
Fame is a curious, fickle beast.
Perhaps most important, "Back for Good" was also featured in the final episode of the original British version of The Office, produced by Ricky Gervais and Stephen Merchant. It was the love theme for Tim and Dawn (the British equivalent of the American version of The Office's Tim and Pam). If you haven't seen the British version of the The Office, order it on NetFlix today. It is sheer comedic brilliance. The fact Ricky Gervais used "Back to Good" in his best TV show gives the song massive credibility, even if it was used in a ironic manner.
And to come full circle with the comparison to Boyz II Men, that chart-topping band covered "Back for Good" for their Love album. That version didn't chart.
Buy Back for Good by Take That
Watch "Back for Good" video by Take That
Filed under: 1990s, Pop · Tags: 1995, 90s one hit wonder love song, Back for Good, ballad, boy band, Boyz II Men, British, British band, British one-hit wonder, one hit wonder love song, one-hit wonder ballad, Robbie Williams, Take That