» 1970s, Pop » Baby Face – Wing and a Prayer Fife and Drum Corps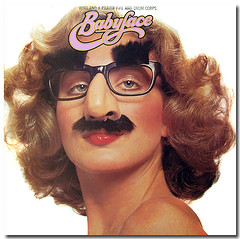 The year was 1976. Disco was fast becoming the most popular phenomenon since the "Pet Rock." Variety shows filled the airwaves each night. Best of all, it was the United States' bicentennial – 200 years since this nation's founding.
How did we celebrate our heritage? With a throwback song to the 1920s in "Baby Face" by the Wing and a Prayer Fife and Drum Corps, of course.
"Baby Face" was first a Billboard #1 hit song in 1926. It came back with a vengeance in 1948. Two number on hits of the same song in 22 years. A pretty good stretch for a simple, catchy song.
Perhaps no version is more catchy, silly and simple than the disco version of "Baby Face" Wing and a Prayer Fife and Drum Corps dropped on an unsuspecting America during early 1976. It's an awesomely good and bad novelty song. (See more novelty songs and novelty hits here).
This studio hit from a fictitious band of disco studio players reached #14 on the Billboard Hot 100. Not surprisingly, it's the only time Wing and a Prayer Fife and Drum Corps hit the Billboard Top 40. The song spent 21 weeks on the Billboard charts.That's nearly six months. People obviously loved it.
Today, it is a mostly forgotten blast from disco's past. But we'll always remember.
Listen to Baby Face
Filed under: 1970s, Pop · Tags: 1976, disco, forgotten one-hit wonder, novelty hit, novelty song, silly