» 1980s, Pop » Axel F – Harold Faltermeyer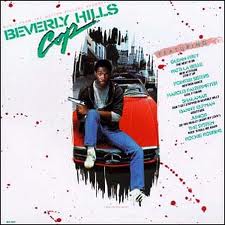 In the world of instrumental one-hit wonders, few songs have as much staying power as "Axel F" by Harold Faltermeyer. This thing is seriously a monster hit, first appearing in the 1984 film Beverly Hills Cop and starring Eddie Murphy at the height of his fame.
Axel F is Axel Foley, Murphy's streetwise cop character who drives Judge Reinhold nuts as they solve crimes and commit hijinks. If you haven't seen Beverly Hills Cop, stop reading right now, surf over to your NetFlix account, order the movie, watch it and come back. We'll wait for you…
Back so soon?
Let's move along then.
"Axel F" is a brilliant one-hit wonder on many levels. It's a synthpop one-hit wonder, placing it in the same company as "Cars" by Gary Numan, "Whip It" by Devo, "Video Killed the Radio Star" by The Buggles, "Funky Town" by Lipps Inc. and "Autobahn" by Kraftwerk to name just a few genius synthpop hits.
See our list of synthpop one-hit wonders
"Axel F" is also one of the all-time classic instrumental one-hit wonders. That list includes classics like "The Entertainer" by Marvin Hamlisch, "A Fifth of Beethoven" by Water Murphy, "TSOP (The Sound of Philadelphia)" by MFSB and many others. If you like instrumental one-hit wonders, don't miss our big list of hits.
Click to hear our list of instrumental one-hit wonders
Enough about that stuff. Harold Faltermeyer recorded "Axel F" for the Beverly Hills Cop soundtrack, the movie exploded into mass popularity, everyone loved Eddie Murphy and the theme song went all the way to #3 on the Billboard Hot 100 in 1984. It become popular yet again in 2003 and 2005 when it topped many European charts as the "Crazy Frog" song. Listen and watch below at your peril.
Since then, the song has made multiple appearances in movies like Monsters Vs. Aliens, Space Chimps and many, many others. It's arguably in the top 5 instrumental one-hit wonders of all time. Sometime I'll get around to writing that list. For now, dig into and experience the majesty of early 1980s synthesizers and drum machines as they bust out the "Axel F Theme."
Watch Axel F Performed in Monsters Vs. Aliens Movie
Not to be outdone, you can also hear "Axel F" in the Space Chimps movie (not nearly as famous but kids under the age of 8 love it).
Axel F from Space Chimps
Axel F Meets Crazy Frog
Filed under: 1980s, Pop · Tags: 1984, Instrumental, instrumental one hit wonder, keyboard, movie one hit wonder, movie soundtrack, movie soundtrack one-hit wonder, movie theme, soundtrack, Soundtracks, synthesizer, Synthpop