» 1980s, Pop » Another Lover – Giant Steps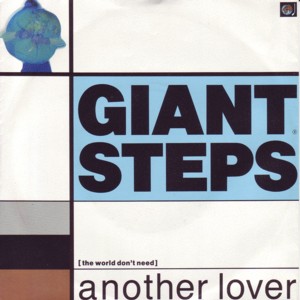 The 1980s are famous for big hair, big drums, big egos and big keyboard-driven hit songs.
Some of these synthpop songs were instant classics and sound just as good today.
Songs like "She Blinded Me with Science" by Thomas Dolby or "Too Shy" by Kajagoogoo were bursting with keyboards squeeks and beeps and soaring vocals and still garner airplay more than 25 years after their release.
One of my favorites from the era is "Perfect Way" by Scritti Politti. Its as bubbly as a jug of Sprite and as sweet as a vat of Godiva chocolates.
It's no coincidence that all three of the bands mentioned are British. Something joyful was in the air even as Robert Smith and The Cure created indelible mope rock and The Smiths wrote brilliant woe-is-Morrisey epics that still sound exceptional today.
"Another Lover" by Giant Steps arrived on the scene in 1988 and is yet another entry in the Britpop sweepstakes. It's full of synthesizers, drum machines and soaring vocal hooks. Get it in your head and the song will dwell there for a few minutes if you're lucky and possibly a few hours if you're not.
To my ears, it sounds like a poor-man's version of "Perfect Way" by Scritti Politti. The chord transitions are similar. The punchy synthbass and vocal lines ape Green Gartside's phrasing and songwriting.
Listen to Another Lover by Giant Steps
Not sure many people heard the similarities but they liked Giant Steps and "Another Lover" enough to push it to #13 on the Billboard Top 40 in 1988 making Giant Steps a one-hit wonder.
Turns out the music world didn't need another lover, nor did they need Giant Steps either and the band broke up after one album.
But "Another Lover" remains a joyful little slice of 1988 pop music. It's not great. It's not cheesy like "Whole Wide World" by A'me Lorain either.
It's just another forgotten one-hit wonder by a 1980s British band.
Buy Another Lover by Giant Steps
Filed under: 1980s, Pop · Tags: 1988, A'me Lorain, Another Lover, British band, British one-hit wonder, forgotten one-hit wonder, Giant Steps, kajagoogoo, Perfect Way, Robert Smith, Scritti Politti, She Blinded me with science, synthesizer, Synthpop, The Cure, The Smiths, Thomas Dolby, too shy, Whole Wide World