» 1960s, Country » The Ballad of Irving – Frank Gallop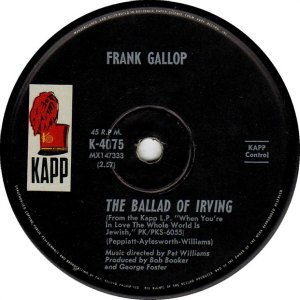 Frank Gallop was born in 1900 and by the 1940s was an announcer for numerous radio programs before moving on to early television shows in the '50s.
"What's a radio program?" I hear some younger readers asking. Those of you who were playing with Daddy's MacIntosh or Hewlett-Packard desktop while still wearing diapers might very well be shocked to learn there was a time when there was no TV, let alone Internet or cell phones!
In those days before about 1950, the radio wasn't just a device that played music, sports and Rush Limbaugh, but something far richer. Families would gather 'round the living room radio set every evening to listen to radio programs packed with characters and stories, just like TV shows. There were comedies and dramas, suspense and adventure programs. But with no TV screen to watch, you had to create your own action and pictures in your mind! (For further details, ask your great-grandparents.)
Back to Frank Gallop: He also recorded numerous songs, of which "The Ballad of Irving," a spoof of cowboy songs with a Jewish twist, was his most famous, in large part because of Dr. Demento.
It's a parody of a Lorne Greene song titled "Ringo" that hit number 1 on the Billboard Top 40 and transformed actor Greene (perhaps most famous for the TV show Bonanza and the original version of Battlestar Galactica) into a one-hit wonder himself. So consider this a novelty version of the much more serious and sober "Ringo" and a double-one-hit wonder connection.
To be frank, Gallop's saga of "The 142nd Fastest Gun in the West" didn't exactly gallop way up the Billboard Top 40, reaching only number 34 in 1966, but it did reach number 2 on the Adult Contemporary chart (the AC chart?!).
The song found its true home on Dr. Demento, where it was constantly on his "Funny Five" countdown for decades, along with "Fish Heads" by Barnes & Barnes and "Frosty the Dope Man" by Marc Zydiak.
Listen to The Ballad of Irving by Frank Gallop
Listen to Ringo by Lorne Greene
Hear more: Novelty songs and novelty song one-hit wonders
Filed under: 1960s, Country · Tags: 1960s 1 hit wonder, 1960s one hit wonder, 1966 1 hit wonder, 1966 one hit wonder, Frank Gallop, Lorne Greene, novelty hit, novelty song, The Ballad of Irving