» 1980s, Country » Stand By Me – Mickey Gilley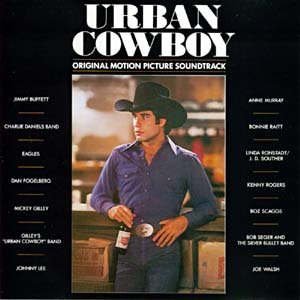 Mickey Gilley is a country music legend. But he's a pop music one-hit wonder for his 1980 crossover hit from the Urban Cowboy movie that starred John Travolta.
The definitive version of "Stand By Me" is performed by Ben E. King. It's a classic that features one of the most famous bass lines in all of rock music.
Gilley's version is a bit more sleepy, a bit more somber, a bit more boring.
But that didn't matter because Americans lapped up the idea of John Travolta as an urban cowboy and saw the movie and hastily added the soundtrack to their record collections (kids, this was the pre-CD era and a long time before MP3s meant anything to anyone).
Mickey Gilley's version of "Stand By Me" hit #1 on the country music charts and #22 on the Billboard Top 40 in 1980, making Mr. Gilley an 80s one-hit wonder. There's a piece of Mickey Gilley trivia for you.
But my favorite trivial tidbit is that Gilley's cousins include Jerry Lee Lewis AND Jimmy Swaggart. A guy who took a child bride in the 1950s and a controversial preacher (who also turned out to be an adulterer after pointing out other sinners sins for years on his 1980s TV show). Wouldn't you like to be a fly on the wall to hear a discussion about morality between those two characters?
I like to think Gilley would simply stay in the middle and strum his guitar to keep the peace.
Listen to Stand By Me by Mickey Gilley
If you were a country music fan, 1980 was a very good year, with crossover hits like "I Believe In You" by Don Williams, "Ashes By Now" by Rodney Crowell and "Lookin' for Love" by Johnny Lee all hitting the Billboard Top 40. Add "Stand By Me" to the mix and you have a country quartet that will get you through the night.
Filed under: 1980s, Country · Tags: 1980, Charlie Dore, Country, country crossover, country one hit wonder, Don Williams, John Schneider, Johnny Lee, Movie, movie one hit wonder, movie soundtrack, movie soundtrack one-hit wonder, Rodney Crowell, soundtrack, Soundtracks, Sylvia, Urban Cowboy