» 1980s, Country, Pop » Nobody – Sylvia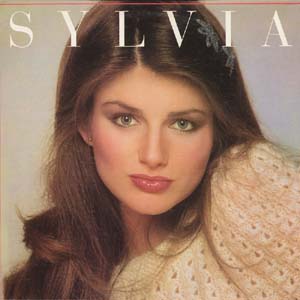 Country crossover hits were a big deal in the early 1980s. For a while it seemed like every country artist was on the Billboard Hot 100 with a crossover pop hit, including Juice Newton, Dolly Parton, Anne Murray, Ronnie Milsap, Eddie Rabbit and Kenny Rogers. It was a good time to sing country music since very little about these country crossovers actually sounded country at all.
"Nobody" by Sylvia is a country one-hit wonder, just like "Seven Year Ache" by Rosanne Cash and "Somebody's Knockin'" by Terri Gibbs. Neither of these songs have weeping fiddles or twangy pedal steel. They sound pretty much like the pop songs they are.
Sylvia was 26 years old when she released her second album, the not-so-creatively titled, Just Sylvia. She was already riding chart momentum, having notched three top ten country hits in 1981. So it was no big surprise when "Nobody" raced up the charts and became her second #1 song in the two years. What was surprising was that pop music listeners embraced the song and pushed it to #15 on the Billboard Hot 100. What is even more surprising is that the song was so happy and cheery, it turned an extramarital affair into a completely innocuous and breezy pop song.
Listen to a live version of Nobody by Sylvia
Sylvia and "Nobody" were nominated for a Grammy award in 1983 for Best Female Country Vocal Performance. She didn't win, but "Nobody" became her signature song that you can enjoy now in all its simple, poppy glory. "Nobody" and the Just Sylvia sold more than 500,000 records and were certified gold in the United States. And "Nobody" was the 1982 BMI Song of the Year. That meant the song was played on the radio more than any other single in 1982.
Unlike many one-hit wonders, Sylvia went on to many years of success on the country charts. But "Nobody" remains our favorite for its early '80s cheesy charm (including the airbrushed album artwork).
Listen to "Nobody"
Nobody – Sylvia
Click here to read "Nobody" lyrics
Filed under: 1980s, Country, Pop · Tags: 1982, Country, country crossover, country one hit wonder, Grammy Award, Nobody, Rosanne Cash, Seven Year Ache, Slyia, somebody's knockin', Sylvia, Terri Gibbs