» 1970s, Country » I Can Help – Billy Swan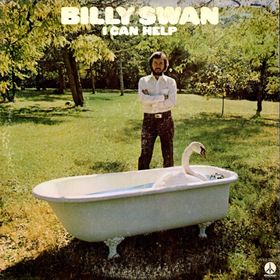 Country crossover hits are an interesting phenomenon. In the 1980s there were a bunch of tunes that crossed over from venerable acts like Micky Gilley, Sylvia and John Schneider (from the Dukes of Hazzard). The 1990s were chock-full of country crossover hits from Shania Twain, Faith Hill and many more artists who are completely removed from one-hit wonder status as multi-Platinum recording artists.
In the 1970s, you get songs like "I Can Help" by Billy Swan. It's a little bit country. It's a little bit rock 'n' roll. Kind of like Donny and Marie Osmond's old shtick from their 1970s TV show.
It's a touch rockabilly. And it's completely forgettable.
But audiences loved it and pushed Billy Swan's debut single all the way to #1 on the Billboard Top 40 AND the Hot Country Singles charts in September 1974.
Click to hear other Billboard number-one hit one-hit wonders
That was about it for Swan's rock 'n' roll or pop star career. But like Van Stephenson who had a one-hit wonder with "Modern Day Delilah" in 1984 and then later became a successful country music songwriter for bands like Restless Heart, Billy Swan followed that same path and found success a country songwriter and session musician.
Listen to I Can Help by Billy Swan
"I Can Help" sold more than 1 million units. That makes this song a Platinum record. Pretty impressive for a song I've never liked, enjoyed or really cared for.
But I'm often wrong about such things.
There are however, two impressive facts about this song:
1. It was recorded in two "takes" or attempts without any overdubs. I would love to see Britney Spears, Selena Gomez or even Celene Dion try to match that.
2. The organ you hear on the recording was given to Swan by Kris Kristofferson, who is the songwriter behind Janis Joplin's biggest hit, "Me and Bobby McGee"
It all just proves that nearly all one-hit wonders can be connected to another one-hit wonder in some way or another.
Filed under: 1970s, Country · Tags: #1, #1 hit, #1 song, 1974, Billboard number one hit, Billy Swan, country crossover, country one hit wonder, country rock, Janis Joplin, Kris Kristofferson, number one song