» 1980s, Country » I Believe in You – Don Williams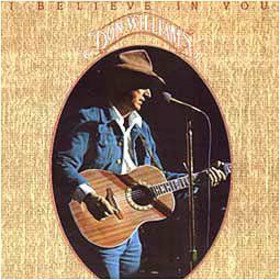 Big Don Williams is a class act. He's still out there strumming his guitar after five decades in the music business. In fact, he's probably playing a small venue in middle-America tonight.
With 17 number one hits on the country charts, he was deservedly inducted into the Country Music Hall of Fame in 2010.
But today isn't about Don's country hits. It's about the one time in his career that he crossed over from the country charts to the pop chart zip code and notched his one and only Billboard Top 40 hit with "I Believe in You."
This gentle song was his eleventh number one country hit and rose all the way to #24 on the Billboard Hot 100 in 1980.
Listen to I Believe in You by Don Williams
Putting 1980 in context, it's not hard to imagine why. The pop charts also saw country crossover hits from Mickey Gilley, Rodney Crowell and Charlie Dore. Fast-forward a year to 1981 and you see crossover country hits by John Schneider (Luke from the Dukes of Hazzard), Dottie West, Terri Gibbs, Rosanne Cash and Emmylou Harris. Country music had new life on the pop charts for a few years.
But of all the country crossover hits, my favorite remains "I Believe in You" by Don Williams. It's gentle. It's smooth. It's honest. It doesn't try to be any more than it is: just a simple song about life in an ever-complicated world.
Don Williams is the "Gentle Giant of Country Music." He's also a one-hit wonder and deserves our respect.
Filed under: 1980s, Country · Tags: 1980, ballad, Charlie Dore, Country, country crossover, country one hit wonder, Dottie West, John Schneider, Mickey Gilley, one-hit wonder ballad, Rodney Crowell, Rosanne Cash