» 2000s, Hip Hop » Who Let the Dogs Out? – Baha Men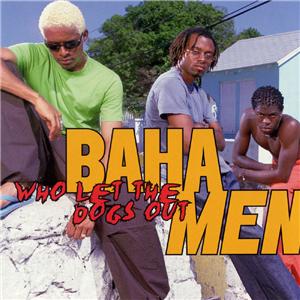 There is no middle ground on "Who Let the Dogs Out."
Some love it. Many hate it. In fact, besides kids under the age of 7 or adults under the influence of overpriced beer and under-buttered popcorn at sporting events, I'm not sure anyone in their right mind loves "Who Let the Dogs Out" by Baha Men.
But back when the song was new and still had its bite, the Grammy Awards committee awarded Baha Men with the "Best Dance Recording" at the 2000 Grammy Awards.
It did make people move their butts. Which can really be said for just about any highly produced pop song or hip-hop one-hit wonder.
Click to hear more hip-hop one-hit wonders
The Grammy Awards and one-hit wonders have a long and not-so-perfect history. Besides awarding Baha Men with a Grammy Award over Jennifer Lopez, Moby and Enrique Eglesias, they've also made a few mis-steps along the way in awarding Best New Artists Grammy Awards to a number of one-hit wonders including Marc Cohn with "Walking in Memphis," Debby Boone with "You Light Up My Life," Amy Holland with "How Do I Survive" (now you're wondering, Who is Amy Holland?) and Starland Vocal Band with "Afternoon Delight."
See more Best New Artist Grammy Award Winners
Listen to Who Let the Dogs Out? by Baha Men
Although "Who Let the Dogs Out" is known by nearly every human on the planet today, it only reached #40 on the Billboard Top 40. I guess it demonstrates that you don't need to hit number one to become public enemy number one with people who hate, hate, hate "Who Let the Dogs Out." The same could be said for "I'm Too Sexy" by Right Said Fred, another massively popular and hated one-hit wonder.
The song is so despised, in fact, it has hit many worst or most-annoying song lists including one by Rolling Stone magazine where "Who Let the Dogs Out" barks proudly at #3 most annoying song ever.
Click to hear more of the worst one-hit wonders ever
On the other hand, it's #5 on its list of the VH1's 100 Greatest One-Hit Wonders list.
What's my take? I can take it or leave it. I never hated it. I never loved it. But it does have a killer chorus that gets in your head and lasts for days. And I know many two- to four-year-old kids who think it's the greatest song ever. So there's that.
Baha Men grabbed their Grammy Award and notched their way into the world's psyche with their one big hit. If you have to be known for one thing to the world, "Who Let the Dogs Out" isn't the worst.
Baha Men continue to rock nightclubs today. If you're craving a little live dose of "Who Let the Dogs Out," go see them. I'm certain they'll be glad to oblige. And when the chorus shouts out: "Who let the dogs out/Who, Who, Who, Who" I'm certain you'll sing along like a pro.
Filed under: 2000s, Hip Hop · Tags: 2000, Baha Men, Best Dance Recording Grammy Award, Grammy Award, Hip Hop, hip hop one hit wonder, Who Let the Dogs Out, worst one hit wonders