» 2000s » Icky Thump – The White Stripes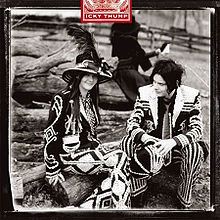 So The White Stripes are history. At least that's what the news on The White Stripes website says when it reads:
The White Stripes would like to announce that today, February 2nd, 2011, their band has officially ended and will make no further new recordings or perform live.
The reason is not due to artistic differences or lack of wanting to continue, nor any health issues as both Meg and Jack are feeling fine and in good health.
It is for a myriad of reasons, but mostly to preserve What is beautiful and special about the band and have it stay that way.
Meg and Jack want to thank every one of their fans and admirers for the incredible support they have given throughout the 13 plus years of the White Stripes' intense and incredible career.
Third Man Records will continue to put out unreleased live and studio recordings from The White Stripes in their Vault Subscription record club, as well as through regular channels.
Both Meg and Jack hope this decision isn't met with sorrow by their fans but that it is seen as a positive move done out of respect for the art and music that the band has created. It is also done with the utmost respect to those fans who've shared in those creations, with their feelings considered greatly.
With that in mind the band have this to say:
"The White Stripes do not belong to Meg and Jack anymore. The White Stripes belong to you now and you can do with it whatever you want. The beauty of art and music is that it can last forever if people want it to. Thank you for sharing this experience. Your involvement will never be lost on us and we are truly grateful."
—Meg and Jack White, whitestripes.com
Hard to believe these beloved critical darlings are one-hit wonders. Even more amazing is that their one song to reach the Billboard Top 40 is "Icky Thump" from their 2007 release also titled Icky Thump.
Just listen to this song. It sounds like no other one-hit wonder. It's raw. It's rough. It unexpectedly changes tempo. It has more in common with one-hit wonders by Focus and other avant-garde artists like Lou Reed and his nearly un-listenable album, Metal Machine Music than pop one-hit wonders like "Groove Is in the Heart" by Dee-Lite or "I'm Too Sexy" by Right Said Fred.
Listen to Icky Thump by The White Stripes
Listen to a live version of Icky Thump by The White Stripes
"Icky Thump" is proof that sometimes pop music listeners stretch and embrace songs that aren't simple, aren't poppy and aren't predictable. It happened in the early 1970s with "Autobahn" by Kraftwerk. It's a refreshing rarity in the pop music world.
It sounds like no other popular pop song I can remember. And it turned The White Stripes into one-hit wonders since "Icky Thump" reached #26 on the Billboard Hot 100 in 2005. That's even more amazing when you consider that "Seven Nation Army" is arguably a more mainstream-sounding song and maxed out at #76 on the Billboard Hot 100 in 2003 (and also won the Grammy Award for the Best Rock Song). Then again, "Icky Thump" brought home the Grammy award for Best Rock Performance by a Duo or Group with Vocals back in 2008.
Now the band is history. And I respect them for their decision to go out on top. Let's all hope they have the conviction to act like The Beatles versus The Who by never, ever reuniting to milk a nostalgic public for more money and fame.
Here's to you White Stripes!
Listen to Seven Nation Army by The White Stripes
Filed under: 2000s · Tags: 2007, Alternative Rock, Deee-Lite, Focus, Grammy Award, Kraftwerk, Lou Reed, Right Said Fred, Rock, The White Stripes