» 1990s, Hip Hop » Jump Around – House of Pain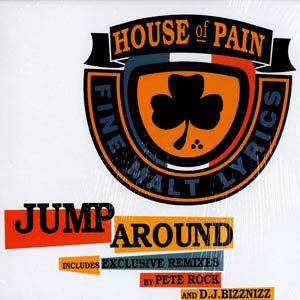 The 1990s were a great era for hip hop one-hit wonders. We enjoyed silly, novelty songs like "Baby Got Back" by Sir Mix-a-Lot. We laughed at songs like "No Pigeons" by Sporty Thievz that was written in response to T.L.C.'s multi-million selling "No Scrubs."
But few hip hop songs became as ubiquitous as House of Pain's "Jump Around." Released in 1992, "Jump Around" became a massive hit that reached #3 on the Billboard Hot 100. VH1 places it at #24 on their list of the "100 Greatest Songs of the 90s." They also pegged it at #66 on their list of the the 100 Greatest Songs of Hip Hop."
Click to hear more hip-hop one-hit wonders
Unless you were a charter member of the Taliban and training in Afghanistan in 1992, we're pretty sure you've heard this song. We're certain you know the distinctive horn riff and the scream that comes from Prince's "Get Off," another great hip-hop single from 1991. A single that includes this immortal stanza:
Word to your moms I came to drop bombs
I got more rhymes than the Bible's got Psalms
Click here to read "Jump Around" lyrics
"Jump Around" does one thing and one thing really well: it makes people jump around. In the clubs. In their cars. In their homes. This song makes you bounce better than Kris Kross' "Jump" that was also a hit in 1992 and had the distinction of holding the #1 spot on the Billboard Hot 100 for eight weeks.
But we'll take "Jump Around" any time. Not just because the horn riff and Prince scream are the definition of awesome. Not just because the song still gets played at NBA arenas and football stadiums. Not because The University of North Carolina Tar Heels play it at every game or the song echoes through the rafters of the University of Wisconsin football stadium every third quarter of every game.
No, we love it because House of Pain and "Jump Around" was the catalyst behind Everlast's solo career. A career that saw him hit the Billboard Hot 100 as a solo artist for writing a song we universally loathe. Yes, we loathe "What It's Like." And we don't loathe many one hit wonders. In fact, we like or appreciate most of them.
Even though "What It's Like" hit #13 on the Billboard Top 40, we really, really don't like it at all. Never did and never will. We're sure Everlast is a good guy and you may love "What It's Like." Good for him and you. But as far as we're concerned, "Jump Around" is a much better song and hearing "What It's Like" helps us appreciate it that much more.
Listen to "Jump Around" now
Filed under: 1990s, Hip Hop · Tags: 1992, Everlast, Get Off, Harlem Shuffle, hip hop one hit wonder, Jump Around, one hit wonder, What It's Like