» 1990s, Hip Hop » Deeper Shade of Soul – Urban Dance Squad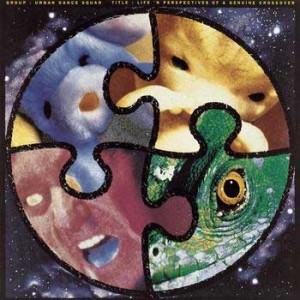 The Dutch have given us a few classic one-hit wonder bands and songs:
"Venus" by Shocking Blue from 1970
"Hocus Pocus" by Focus from 1973
"Sausalito Summernight" by Diesel from 1981
And although some might consider Golden Earring a Dutch one-hit wonder band, they are actually a two-hit wonder with "Radar Love" reaching #13 in 1973 and "Twilight Zone" reaching #10 on the Billboard Hot 100 in 1982.
Today we're here to honor the fourth Dutch edition to one-hit wonder status: "Deeper Shade of Soul" by Urban Dance Squad.
Read "Deeper Shade of Soul" lyrics
Click to hear more hip-hop one-hit wonders
This quintet that came together for a single jam session in 1986 turned into a real band that fused a variety of musical genres into, well, an urban dance sound. That sound that combined elements of hip hop, funk, soul, reggae, jazz and even ska hit pay dirt in 1991 when a "Deeper Shade of Soul" hit #21 on the Billboard Hot 100.
We remember the song and video fondly, although it's one of many one-hit wonders that was huge for a short time and then conspicuously absent on the radio soon afterwards. If you've heard a "Deeper Shade of Soul" on the radio in the past year, we want to know. And in fact, we recommend you request it on your oldies station or even public radio station just to bring it back to life.
We rank it #3 on our list of "Best Dutch One-Hit Wonder Songs."
Listen to Deeper Shade of Soul by Urban Dance Squad
Urban Dance Squad – Deeper Shade Of Soul.mp3
Filed under: 1990s, Hip Hop · Tags: 1991, Diesel, Focus, Hip Hop, hip hop one hit wonder, Hocus Pocus, one hit wonder, Sausalito Summernight, Shocking Blue, Urban Dance Squad, Venus