» 1990s » Brick – Ben Folds Five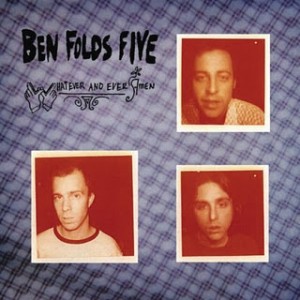 This has to be one of the most depressing one-hit wonders ever. And we defy you to cite a song that name-checks Christmas in a more depressing context.
That context? An after-Christmas abortion for two high school kids.
Seriously.
The first line of the song: "6 am, day after Christmas, I throw some clothes on in the dark."
The couple is headed to the free clinic to abort their unborn child.
This, my friends, is the genius and madness of pop music. Because no song that is cryptically about a couple getting an abortion should ever become a Top 40 hit. Especially a song as morose and honest and that comes from a near-novelty band like Ben Folds Five. You know, the Five is really a trio: Ben on piano, Darren Jessee on drums and Robert Sledge on bass guitar.
"Brick" in all its morose glory reached #19 on the Billboard Hot 100 in February 1998. I couldn't believe it. I was a Ben Folds Five fan. I knew their earlier work and when I first listened to "Brick" in the middle of the Whatever and Ever Amen album, I thought, "This has to be some kind of joke."
But it wasn't. It's the true story of Ben Folds and his high-school girlfriend sneaking out to abort their child.
I don't want to debate the merits of choice or no choice here. I don't want to discuss if songs about abortion are a good or bad thing.
This is a website dedicated to music, not social policy or politics.
What I do want to applaud is the guts Ben Folds had in writing and recording the song, and then fessing up to the back story when pressed by incredulous fans. "Brick" sounds like almost nothing in the early Ben Folds catalog. The average Ben Folds fan expected peppy and poppy piano-driven songs with singalong choruses and clever lyrics.
"Brick" definitely ain't that.
Besides being a great pianist and lyricist, Ben Folds has guts.
Not surprisingly, Ben Folds Five fans rebelled. Some accused Ben of "selling out and going mainstream."
Screw them.
"Brick" is a heartfelt song about what he describes as an awful moment in his life.
The song was recorded in a single room on a few microphones. No overdubs. No studio trickery. It's about as honest as you get.
It's honestly amazing that "Brick" is the only time Ben Folds Five reached the Billboard Top 40. If you know their music, there are about 15 other songs that should have turned them into one-hit wonders.
But "Brick" is the one.
Let's leave it at that.
Listen to Brick by Ben Folds Five
Filed under: 1990s · Tags: 1998, ballad, Ben Folds Five, live, one-hit wonder ballad, piano, sad song, singer songwriter