» 1980s » You Don't Know – Scarlett and Black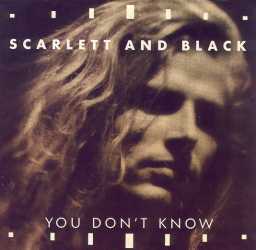 Here is another forgotten one-hit wonder. A song that was mildly popular in the late 1980s and completely obscure today.
It features Scarlett and Black, two singers whose real names are Robin Hild and Sue West and whose claim to fame prior to "You Don't Know" hitting the Billboard Top 40 was that West was a backing singer for Doctor and the Medics who are widely considered one-hit wonders for their 1986 cover of "Spirit in the Sky" that reached #69 on the Billboard Hot 100 and was written and performed by Norman Greenbaum who is mistakenly considered a one-hit wonder for his original version of "Spirit in the Sky."
Did you follow all that?
Doesn't really matter. What does matter is that Scarlett and Black released their debut record in 1987 that sounded like Boy Meets Girl, T'Pau and, in the case of "You Don't Know," amazingingly similar to "Everyone Wants to Rule the World" by Tears for Fears. Listen to the rhythm and drums of the two songs side by side and the vocal melodies and you should hear the similarities. Plus, they're both 1980s big production songs so they share that BIG 80S sound.
"You Don't Know" was their one and only hit, reaching #20 on the Billboard Top 40 in 1988 making Scarlett and Black a one-hit wonder.
Then, like so many one-hit wonders before them, this British one-hit wonder broke up and you don't know and I don't know much about the band after that point. But you can still enjoy this Tears for Fears-like 1988 hit.
Click to hear more forgotten one-hit wonders
Listen to You Don't Know by Scarlett and Black
Listen to Everybody Wants to Rule the World by Tears for Fears
Buy You Don't Know by Scarlett and Black
Filed under: 1980s · Tags: 1988, Boy Meets Girl, British band, British one-hit wonder, forgotten one-hit wonder, Scarlett and Black, T'Pau, Tears for Fears