» 1980s » Valley Girl – Frank Zappa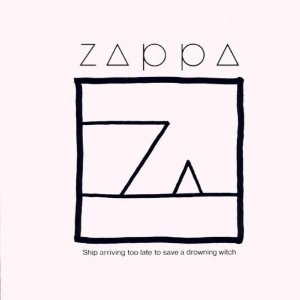 With a sharp sense of humor that skewered everything from politics to TV commercials to Beatles' album covers and song titles such as "Don't Eat the Yellow Snow," "Stevie's Spanking" and "I Don't Want to Get Drafted," Frank Zappa was one of the most unlikely artists to put a song anywhere near, much less in, the hallowed Top 40.
But there it was in 1982 when "Valley Girl" made it to Number 32 on the Billboard Top 40 and Zappa was on his way to one-hit wonder status.
The song's target was "Valley Speak," a bizarre form of teen lingo (employed mainly by girls) that got its start in L.A.'s San Fernando Valley before spreading like wildfire across the country while parents everywhere wished they could gag their daughters with a spoon, I mean, total-lee!
In her cameo performance, Zappa's daughter Moon Unit provided the Valley Speak narration over the continuously sung title refrain. And what's up with the goofy names celebrities insist on giving their children? Moon Unit Zappa?
Listen to Valley Girl by Frank Zappa
Until his life was cut short by prostate cancer in 1993, Zappa was constantly writing and recording new material (the man was nothing if not prolific), at first with the Mothers of Invention, then as a solo artist, always employing the best musicians as his songs could get quite complicated.
Beyond the humor was a man who could compose and play any style of music and musicians in other fields praised him. His songs were always favorites on Dr. Demento; the Capitol Steps, a comedy group that has lampooned Washington people and politics for decades, are heavily influenced by Zappa.
Across the Atlantic, the odd group called Budgie employed Zappa-esque song titles such as "Crash Course in Brain Surgery" (covered by Metallica), "Nude Disintegrating Parachutist Woman" and my favorite title "You're the Biggest Thing Since Powdered Milk."
Plenty of Zappa's early players went on to careers of their own: Captain Beefheart recorded a series of bizarre solo albums, and ex-Mother Lowell George formed the cult favorite Little Feat. Here is a short list of Frank Zappa musicians who went on to greater fame away from the band.
Adrian Belew – King Crimson guitarist and solo artist
Dale Bozzio – Missing Persons singer
Terry Bozzio – Missing Persons drummer
Michael Brecker – Jazz sax player and studio musician
Randy Brecker – Jazz trumpet player and studio musician
Vinnie Colaiuta – Played with Sting and countless studio albums
Warren Cuccurullo – Missing Persons and Duran Duran guitarist
George Duke – Keyboard player and successful solo artist and producer
Aynsley Dunbar – Drummer who played with Lou Reed, Jefferson Starship, Journey, Whitesnake, Black Sabbath and many more
Jim Gordon – Drummer who played with Derek and the Dominos and Delaney and Bonnie
Patrick O'Hearn – Keyboard player with Missing Person and solo new age artist
Jean Luc Ponty – Violin player
Chester Thompson – Drummer who toured with Genesis from mid-1970s until band broke up
Steve Vai – Solo artist and guitarist
Chad Wackerman – Drummer and session musician
Filed under: 1980s · Tags: 1980s 1 hit wonder, 1980s one hit wonder, 1982 1 hit wonder, 1982 one hit wonder, Frank Zappa, Missing Persons, Moon Unit Zappa, novelty hit, novelty song