» 1980s » Turning Japanese – The Vapors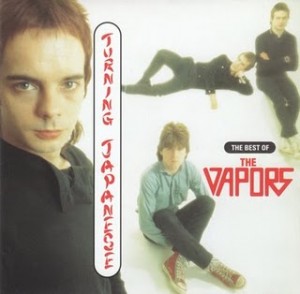 You know this one: "Turning Japanese" by The Vapors is a bona-fide new wave classic. It's one of the all-time great one-hit wonders and one of the most perfect power pop songs ever written. And now that it's in Rock Band, virtually every person in the world knows how to turn Japanese.
Released in 1980, this frantic new wave hit rushed up the charts in England peaking at #3. In the U.S. it hit #36.
Does "Turning Japanese" Refer to Masturbation?
If you know anything about this song, you know conventional wisdom is that the song is allegedly about the face a guy might make when he is, well, um, taking care of business (somehow I think quoting Bachman Turner Overdrive makes this post even less rock 'n' roll). I've heard the lead singer both accept and deny the rumor. So who can you believe? The clip below explores the rumor and offers even a little more history on the band.
What I really care about is the song. And "Turning Japanese" is pure power pop goodness. A few chords, a catchy melody, a simple lyric, and you have a hit. Of course, this was The Vapors' one and only hit, which I believe makes it that much better. The Vapors quickly turned Japanese, then disappeared. But the great song lives on.
Listen to "Turning Japanese" by The Vapors
Turning Japanese – The Vapors
Buy "Turning Japanese" by The Vapors
"Turning Japanese" video by The Vapors
Watch a quick history of The Vapors
Turning Japanese lyrics
I've got your picture of me and you
You wrote "I love you" I wrote "me too"
I sit there staring and there's nothing else to do
Oh it's in color Your hair is brown
Your eyes are hazel And soft as clouds
I often kiss you when there's no one else around
I've got your picture, I've got your picture
I'd like a million of you all round my cell
I want a doctor to take your picture
So I can look at you from inside as well
You've got me turning up and turning down
And turning in and turning 'round
CHORUS
I'm turning Japanese
I think I'm turning Japanese
I really think so
Turning Japanese
I think I'm turning Japanese
I really think so
I'm turning Japanese
I think I'm turning Japanese
I really think so
Turning Japanese
I think I'm turning Japanese
I really think so
I've got your picture, I've got your picture
I'd like a million of them all round my cell
I want the doctor to take a picture
So I can look at you from inside as well
You've got me turning up and turning down and turning in and turning 'round
CHORUS
No sex, no drugs, no wine, no women
No fun, no sin, no you, no wonder it's dark
Everyone around me is a total stranger
Everyone avoids me like a cyclone ranger
CHORUS

Filed under: 1980s · Tags: 1980, New Wave, Power Pop, Rock, The Vapors, Turning Japanese