» 1980s » Take a Little Rhythm – Ali Thomson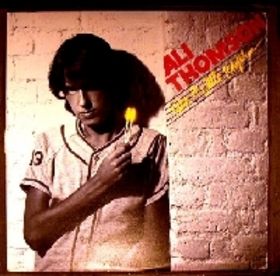 This song is a great example of why I write about one-hit wonders and the charms of these long-forgotten gems.
I haven't heard "Take a Little Rhythm" since about 1981. It's a great example of a song that lights up the airwaves for a few weeks or even months. But five years later people vaguely remember it. Twenty-plus years later and it's merely a musical footnote.
That's a shame, because "Take a Little Rhythm" has to be one of the breeziest, happiest summer songs I've ever heard. It won't change your life. It's not the best pop song released in 1980. But to my ears, there's something magic about the tune, the soprano sax solo and the "doot-doot-doos" in the outro.
It also proves that Scottish songwriters somehow write amazingly joyous and cheery music. Perhaps it's their way of coping with dark, cloudy days. I'm not really sure, but check out this post about Teenage Fanclub for a little rundown of Scottish goodness.
Listen to Take a Little Rhythm by Ali Thomson
Regardless, Ali Thomson is a Scottish singer-songwriter and the brother of Doug Thomson, who just happened to spend a good part of the 1970s and early 1980s making huge records for Supertramp. You do remember "The Logical Song" and "Goodbye Stranger" don't you?
"Take a Little Rhythm" reached #15 on the Billboard Top 40 in 1980 making Thomson a one-hit wonder. He never again graced the Billboard Top 40 but did receive some grief for the vocal similarities on this tune that sound suspiciously like Paul McCartney. I'll admit that when I first heard "Take a Little Rhythm" in 1980, I was CERTAIN the singer was indeed, Paul McCartney because it sounds so much like a mix of "Goodnight Tonight from 1979" and "Silly Love Songs" from 1976. I was young and foolish. And, yes, a sucker for McCartney's silly love songs. But that's a topic for another day.
Enjoy this long-list Scottish one-hit wonder.
Filed under: 1980s · Tags: 1980, breezy, forgotten one-hit wonder, Paul McCartney, Pop, Scottish, Scottish one-hit wonder, singer songwriter, Supertramp