» 1980s » Supersonic – J. J. Fad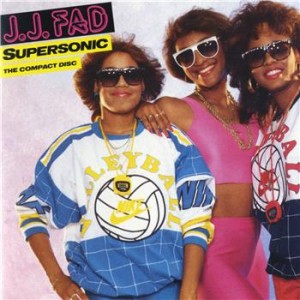 Few songs are more old-school hip-hop awesome than "Supersonic" by J.J. Fad.
What else would you expect from a record produced by Dr. Dre, DJ Yella and Arabian Prince? Plus, throw an executive producer credit on there for Eric "Eazy-E." Wright. This is an N.W.A. record with female vocalists. It doesn't get much better than that.
"Supersonic" blew up in 1988. Listening to it today, it's amazing how simple the backing tracks are. A drum machine with a few effects. Drop the voices of MC J.B. (Juana Burns), Baby-D (Dania Birks) and Sassy C. (Michelle Franklin) and you have a platinum hip-hop one-hit wonder. It clearly demonstrates that songs don't need layers and layers of production to be compelling (it would be nice if today's hip-hop artists and even pop music producers could learn a little subtlety from this record, but I'm not holding my breath).
Click to hear more hip-hop one-hit wonders
On the Billboard charts, "Supersonic" only managed to reach #30 in 1988. But the record sold more than 1 million copies and was voted #76 on VH1's list of the 100 Greatest One-Hit wonders of the '80s.
But it's greatness doesn't end there. "Supersonic" is the basis of "Fergalicious" by Fergie of The Black Peas, which has sold more than 2.7 million copies. Call it creative theft, inspiration, homage or whatever, "Supersonic" shreds "Fergalicious" in a side-by-side smackdown.
I've included both songs for your ears below.
J.J. Fad released two records and broke up. They only hit the Billboard Top 40 once, which makes them a one-hit wonder. But what an exceptional hip-hop one-hit wonder "Supersonic" is.
Watch the Supersonic video by J. J. Fad
(video may not work on iPod and iPad but WORKS on computer)

Listen to Supersonic by JJ Fad
Listen to Fergalicious by Fergie
(video may not work on iPod and iPad but WORKS on computer)

Filed under: 1980s · Tags: 1988, Dr. Dre, Eazy E, Hip Hop, hip hop one hit wonder, hip hop one hit wonders, JJ Fad, NWA, Supersonic, VH1, VH1 100 Greatest One-Hit wonders of the '80s