» 1980s » Sugar Don't Bite – Sam Harris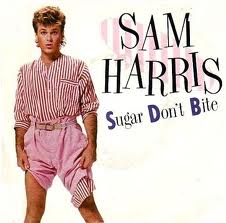 Wow. "Sugar Don't Bite" has to be one of the all-time worst pop songs ever. Listen to it now. Then finish reading the rest of what little I have to say about "Sugar Don't Bite" by Sam Harris.
Listening to the song now? Are you equally appalled?
Watch the video closely. It's a celebration of everything that was awful about the early 1980s.
How about the artwork for the "Sugar Don't Bite" single? Is that supposed to be cute, campy, a throwback to 1060s beach blanket bingo movies or just really bad art direction? (I'm guessing all the above).
I have only a vague recollection of "Sugar Don't Bite" and couldn't recognize Sam Harris in a police lineup of one suspect. But America obviously remembered the man who was the first winner of Star Search, the predecessor to American Idol that was hosted by Ed McMahon.
Listen to "Sugar Don't Bite" by Sam Harris
Their affection for Harris took "Sugar Don't Bite" all the way to #36 on the Billboard Top 40 in 1984. Although big stardom was expected for Harris since this was only his debut single, it never materialized. "Sugar Don't Bite" bit back and no one needed to hear more of Harris on American Top 40. Thank you America, for your taste and judgment in making Sam Harris a one-hit wonder.
To my ears, it sounds like a poor-man's version of Madonna's "Papa Don't Preach." Go ahead, substitute "Papa Don't Preach" whenever Harris sings "Sugar Don't Bite." Soon you'll have Madonna's song in your head instead of this one. You can can thank me later.
Harris' signature song on the show and throughout his long career is "Somewhere Over the Rainbow." It's clearly NOT "Sugar Don't Bite" because I'm convinced you could listen to it 10 times in a row and barely remember anything about the melody or the lyrics. And I'm pretty sure you'll try to exorcise the video from your memory as well.
With this bad, bad song behind him, Harris went on to great success and acclaim on Broadway, which is where his theatrical singing is best suited. He's had (and has) a successful career and I wish him the best. Just don't make me listen to "Sugar Don't Bite" ever again. It's on my short list for worst one-hit wonder of the 1980s.
Click to hear more of the worst one-hit wonders ever
Filed under: 1980s · Tags: 1984, bad album artwork, bad record cover, cheesy album artwork, cheesy album cover, cheesy song, lame songs, Sam Harris, Star Search, Sugar Don't Bite, worst one hit wonders