» 1980s » She Blinded Me with Science – Thomas Dolby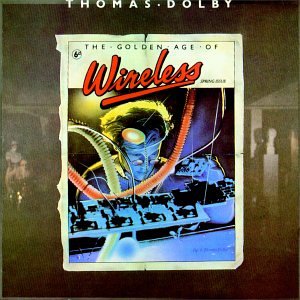 "She Blinded Me with Science" by Thomas Dolby is one of the greatest synthpop one-hit wonders of all time.
I'll proudly place it in the same leagues as "Cars" by Gary Numan from 1979.
Or "Pop Muzik" by M from 1979.
Or "Video Killed the Radio Star" by The Buggles from 1979.
Or "Whip It" by Devo from 1980.
Or "Tainted Love" by Soft Cell from 1982.
Or "Too Shy" by Kajagoogoo from 1983.
Or "Relax" by Frankie Goes to Hollywood from 1985.
Or "Perfect Way" by Scritti Politti also from 1985.
That seven-year stretch of new wave synthpop filled the airwaves with great sounds from bands like Berlin, Depeche Mode, Orchestral Manouevers in the Dark (OMD). All of these cats hit the Billboard charts many times and don't qualify as one-hit wonders.
Click to hear more synthpop one-hit wonders
In my opinion, Thomas Dolby belongs in that company vs. a one-hit wonder list. If you listened to modern rock or alternative stations in the early and mid-1980s, you heard lots of Thomas Dolby on the radio. Songs like "One of Our Submarines" and "Hyperactive" were staples on my local college radio station.
But "She Blinded Me with Science" was Dolby's biggest and only Top 40 hit, reaching #5 on the Billboard Top 40 in 1983 and makes Thomas Dolby a one-hit wonder.
So there you have it.
I recommend his record, The Golden Age of Wireless that features "She Blinded Me with Science." In fact, I recommend just about everything Thomas Dolby ever touched—and there is plenty to go around when you consider he has worked with Trevor Horn, Thompson Twins, Peter Gabriel, Def Lepard, David Bowie and was also a founding member of Bruce Wooley and The Camera Club that eventually evolved into The Buggles and Video Killed the Radio Star.
"She Blinded Me with Science" was in heavy MTV rotation for months. Few kids who were in junior high, high school or college in the early 1980s missed the video. And my bet is that most of them have a nostalgic affinity for this quirky pop song that put Dolby on the pop cultural map, way back in 1983, one of the greatest years for music and the year new wave truly broke through into the mainstream.
Click to read about 1983 and a complete list of 1983 one-hit wonders
Listen to She Blinded Me with Science by Thomas Dolby
Filed under: 1980s · Tags: 1983, British one-hit wonder, Cars, Frankie Goes to Hollywood, Gary Numan, M, New Wave, Perfect Way, Pop Muzik, Relax, Scritti Politti, She Blinded me with science, soft cell, synthesizer, Synthpop, tainted love, The Buggles, Thomas Dolby, video killed the radio star