» 1980s » Shake You Down – Gregory Abbott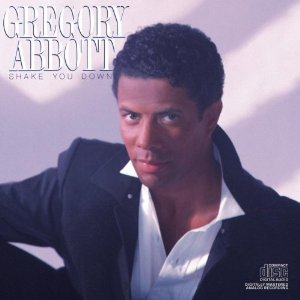 "Shake You Down" by Gregory Abbott is a complete mystery to me.
It's a number one hit.
It's soulful.
It's smooth.
It evokes the spirit of Marvin Gaye and Al Green, two of my favorite soul singers. In fact, one of my favorite albums is What's Goin' On by Marvin Gaye.
Yet in the 1980s and today, "Shake You Down" leaves me cold. I'm simply indifferent about the song.
I don't like it. I don't hate it. I could care less if I ever hear "Shake You Down" again.
But read the comments on Gregory Abbott's YouTube video for "Shake You Down" and you'll find pages of people praising this soulful jam.
Listen to "Shake You Down" by Gregory Abbott
Personally, I don't get it. But American listeners did in a big way since they propelled Abbott's debut single, written and performed by Abbott himself, to #1 on the Billboard Top 40 in 1987 making Gregory Abbott a one-hit wonder. In fact, it's one of only 11 one-hit wonders to reach the #1 position on the Billboard Top 40 between 1980 and 1989.
Click to hear more Billboard number one songs that are one-hit wonders
I remember hearing "Shake You Down" on car stereos, in clubs, on the radio. Today, I may hear it in a shopping mall as I wait for the girl in the Hot Dog on a Stick outfit to pour me a glass of fresh-squeezed lemonade. Not quite as romantic, to be sure.
But I just don't care. I really don't care at all.
If you're an Abbott fan, let's hear your praise. I know Abbott released multiple singles and is still active in 2011. But he never again reached the Billboard Top 40. He's the prototypical one-hit wonder: here today forgotten tomorrow.
The one song "Shake You Down" most reminds me of is "Sexual Healing" by Marvin Gaye. See if you hear the similarities (pay close attention to the instrumental, er, bed (no pun intended). Was Abbott evoking a Marvin Gaye vibe on this one that I'm completely missing?
Please, enlighten me. What's so great about this song?
Listen to Sexual Healing by Marvin Gaye
http://youtu.be/0Q6BnzMXTwc
Buy Shake You Down by Gregory Abbott
Filed under: 1980s · Tags: #1, #1 hit, #1 song, 1987, Billboard number one hit, Gregory Abbott, Marvin Gaye, number one song, one hit wonder love song, one-hit wonder ballad, Shake You Down, singer songwriter