» 1980s, Lists » One-Hit Wonders of 1980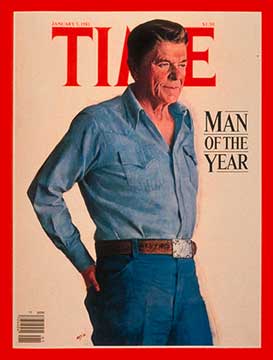 The 1980s begins with Ronald Reagan taking office and Time Magazine naming him "Man of the Year." Seems Sean Hannity and Rush Limbaugh have anointed Reagan "Man of All-Time." You may disagree.
But let's focus on the music. When it comes to one-hit wonders, the 1980s are a great era full of fun, silliness and even a few bona fide classic moments. Kind of like Reagan's tenure as president.
1980 kicks off the decade with 30 one-hit wonders. That's 30 bands that hit the top 40 and never returned.
Three bands/artists jump out on this list: "Whip It" by Devo hit #14. "Cars" by Gary Numan reached #9 and "Funkytown" by Lipps Inc. struck gold with the band's one and only #1 hit.
Roger Daltrey, lead singer of rock legends The Who also charted with "Without Your Love." That's a song we"ll be shocked you remember even though the man who sang it has one of the great voices in rock.
Three other songs worth your time: "I Believe in Love" by Don Williams. A simple crossover country song from the era when country songs still sounded like country music instead of pop songs with a few token fiddle licks. "Take a Little Rhythm" by Ali Thomson sounds like a long-lost Paul McCartney song (even though it isn't). And, of course, "Turning Japanese" by The Vapors. In our opinion, one of the all-time great one-hit wonders and a power pop classic.
Listen to 1980 One-Hit Wonders
List of 1980 One-Hit Wonders
(Song, artist and top chart position on Billboard Hot 100)
The Seduction (Love Theme from American Gigolo) – James Last Band #28
New Romance (It's a Mystery) – Spider  #39
Ashes By Now – Rodney Crowell #37
King of the Hill – Rick Pinette and Oak  #36
Lookin' for Love – Johnny Lee  #5
Whip It – Devo #14
I'm Happy That Love Has Found You – Jimmy Hall  #27
If You Should Sail – Nielsen/Pearson  #38
Filed under: 1980s, Lists · Tags: 1980, 1980s one hit wonder lists, Cars, Devo, Funkytown, Gary Numan, In a Sentimental Mood, Lipps Inc., one hit wonder, one hit wonder list, one hit wonders lists, Ronald Reagan, Set Me Free, Take Your Time Do It Right, The SOS Band, The Vapors, Turning Japanese, Utopia, Whip It