» 1980s » Modern Day Delilah – Van Stephenson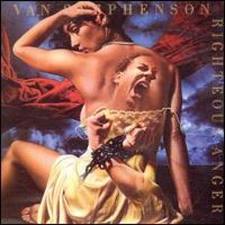 Many singer-songwriters end up as one-hit wonders. Why? Their success as songwriters for other artists often results in a record label "giving them a chance" with their own record.
Van Stephenson is a perfect example of this phenomenon.
After writing hits for country artists like Crystal Gayle and Kenny Rogers, HIVAU Records offered him the chance to do his own thing. A thing that sounds suspiciously like Rick Springfield ("Jessie's Girl") and Corey Hart ("Sunglasses at Night").
Far from the country world where he cut his teeth, Van looks and acts the part of a mid-80s rocker.
I remember hearing "Modern Day Delilah" on the radio in the mid-1980s for about two weeks. And suddenly it was gone, never to be heard again on the radio. If you've actually heard this song on the radio in the past 20 years, please let me know. I would love to hear when, where, and possibly, why.
"Modern Day Delilah" was impactful enough to land Van Stephenson at #22 on the Billboard Top 40. It was also popular enough to land Van a spot on the Solid Gold TV show as well as make a cheesy video with lots of 1980s big, blow-dried hair.

Click to read Modern Day Delilah lyrics
The video concept? He is getting a haircut from a place called Delilah's. Guess he's the modern-day Sampson, though the famous Billy Ray Cyrus mullet would have been a better choice for this concept. Right artist. Wrong hair. Curses.
I'm pretty certain global warming accelerated between 1981 and 1989 due to excess hairspray use. In fact, I blame the metal "poodle bands" like Poison and Warrant for our greenhouse gas issues. I'm looking at you Bret Michaels and Janie Lane.
But I digress. "Modern Day Delilah" turned Van Stephenson into a one-hit wonder. At least as far as his own career is concerned.
But in the country music world, Van is a rock star after penning multiple top 10 hits for Restless Heart, including "'Til I Loved You," "Big Dreams in a Small Town" and "Bluest Eyes in Texas."
The royalty checks were solid. Unfortunately, Stephenson's health wasn't and he tragically died of melanoma in 2001 at the age of 48. Far too young.
But "Modern Day Delilah" lives on.
By the way, if you're a KISS fan looking for their version of "Modern Day Delilah," this ain't it. Not even close. Move along, nothing for you to see here since KISS ain't no one-hit wonder band.
Listen to Modern Day Delilah by Van Stephenson
Filed under: 1980s · Tags: 1984, 1984 1 hit wonder, 1984 one-hit wonder, big hair, Corey Hart, Crystal Gale, dead rock star, Kenny Rogers, Modern Day Delilah, Restless Heart, Rick Springfield, RIP, singer songwriter, Van Stephenson