» 1980s » I Still Believe – Brenda K. Starr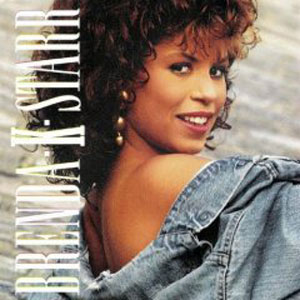 I'm sharing a two-hit wonder today to connect the dots between two additional one-hit wonders from the 1960s and 1970s. I love me some musical math.
Brenda K. Starr's biggest hit is "I Still Believe" from 1988. This ballad reached #13 on the Billboard Top 40 and was followed up by "What You See Is What You Get" when that tune reached in #24 in 1988. The second song is completely forgettable late-'80s pop. If you know it I'm impressed. If you like it I'm shocked.
But "I Still Believe" is a lasting ballad that was made even more famous when Mariah Carey covered it as a tribute to Starr, who had been an early backing vocalist in her band. Like nearly everything Mariah Carey sang our touched in the 1980s and early 1990s, the song went to #4 on the Billboard Top 40.
It's sugary. It's sweet. It's sappy. VH1 ranked the original version of "I Still Believe" # 7 on their list of the 40 Most Awesomely Bad Breakup Songs.
Try not to weep as you listen.
The One-Hit Wonder Connection Behind "I Still Believe"
Okay, enough about Brenda. The amazing thing about this song is that Brenda K. Starr is the daughter of Harvey Kaplan, who was the keyboard player in the 1960s band known as Spiral Starecase. Back then he was Harvey Kaye and his piano playing is a key part of one of the most joyous one-hit wonders of all, "More Today Than Tomorrow."
That connection would be impressive. But the story gets better. Brenda K. Starr's album was produced by Eumir Deodato. Remember him? He is the producer behind the the soul-jazz version of Also Sprach Zarathustra, one of the most famous instrumental one-hit wonders of all time.
If the title doesn't jar your memory, the movie where that song appeared surely will: 2001: A Space Odyssey by Stanley Kubrick.
So there you have it. Spiral Starecase featuring Harvey Kaye on keyboards becomes a one-hit wonder in 1969. His daughter, Brenda K. Starr (Brenda Kaplan), notches her first Billboard hit in 1988 and becomes a two-hit wonder in the process. Deodato, a one-hit wonder from 1973, becomes the missing link between the three songs.
That's three hits, three artists and two one-hit wonders. Impressive stuff, indeed.
Listen to I Still Believe by Brenda K. Starr
Filed under: 1980s · Tags: 1988, Also Sprach Zarathustra, ballad, Ballads, breakup song, cheesy ballad, Deodato, Love Song, Mariah Carey, More Today Than Tomorrow, one hit wonder love song, Spiral Starecase