» 1980s » Hooked on Swing – Larry Elgart and His Manhattan Swing Orchestra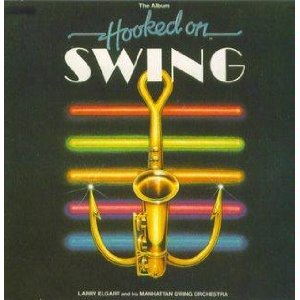 Sometimes one-hit wonders are such brilliant songs, they deserve to rocket to the top of the charts and live a long, fruitful life forever on the charts.
Other songs, not so much. In fact, some you listen to nearly 20 years after they charted on the Billboard Top 40 and you wonder aloud "What were people thinking or drinking to push this into the Top 40?"
The 1980s were an era of excess (cocaine, big hair, bad fashion). But really, did America really turn a medley of swing hits into a six-minute song that hit #31 on the Billboard Hot 100?
Indeed they did and my parents proudly snapped up "Hooked on Swing" by Larry Elgart and his Manhattan Swing Orchestra. I think it's one of two records they ever owned that reached the Billboard charts. The other was Hooked on Classics that featured the popular single, "Hooked on Classics" by the Royal Philharmonic Orchestra.
So let's quickly explore how this unexplainable event transpired. Larry Elgart and his brother Les recorded the original version of "Bandstand Boogie" for Dick Clark's American Bandstand program. Okay, I'll credit them with some rock and roll credibility for that one (at least pop credibility).
That could have marked Larry's entire brush with popular fame. But 1982 struck, something was obviously in the air because it's the same year "Hooked on Classics" became a hit song.
"Hooked on Swing" is a medley of swing jazz hits. Some great songs by great American artists like Glenn Miller's "In the Mood," "Cherokee," "American Patrol," "Sing, Sing, Sing," "Don't Be That Way," "Little Brown Jug," "Opus #1," "Zing Went the Strings of My Heart," and "String of Pearls." If you listen to big band music from Woody Herman, Count Basie, Glenn Miller and Duke Ellington, you no doubt know these songs. The fact that this medley became so popular that the Hooked on Swing record by Larry Elgart and His Manhattan Swing Orchestra reached #24 on the charts on the single reached #31. Think about that, the album was actually more popular than the single!
This all makes no sense. But Larry, I salute you for your instrumental one-hit wonder. Just don't expect me to listen to "Hooked on Swing" more than once every twenty years or so.
Click to hear other instrumental one-hit wonders like Hocus Pocus by Focus, Theme from St. Elmo's Fire by David Foster, Chariots of Fire by Vangelis and much, much more!
Listen to Hooked on Swing now!
Filed under: 1980s · Tags: 1982, David Foster, Focus, Hocus Pocus, hooked on classics, Instrumental, instrumental one hit wonder, novelty hit, novelty song, one hit wonder, St. Elmo's Fire, Vangelis