» 1980s, Videos » Guitar Heroes – Guitar Solos from the 1980s
July 6th, 2010 | Add a Comment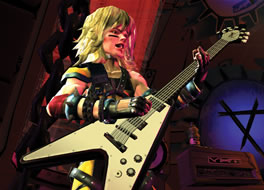 No one-hit wonders here. But how about a diversion into 1980s guitar hero silliness (or awesomeness). Hair bands ruled the 1980s and their big, loud, proud guitar solos got big love and cheers from adoring air guitarists.
Admit it: you spent some time in front of a mirror rocking out to your favorite solo. You had visions of taking the stage while an adoring audience watched your fingers tear up and down the fretboard.
It's hard to argue with a list that includes Slash, Eddie Van Halen and Steve Vai. Here then is a video tribute to a few of the 1980s (and after) legendary guitarists:
CC Deville of Poison
Joe Perry of Aerosmith
Angus Young of AC/DC
Steve Vai (if you or your buddies played guitar in the '80s, you all knew Steve Vai)
Eddie Van Halen
Slash of Guns 'n' Roses (my personal favorite of all the hair metal guitarists)
I'm an obsessive music collector, cataloger, commenter and trivia nut. Sometimes I'm even a listener. One-hit wonders have always been a guilty pleasure.
Filed under: 1980s, Videos · Tags: 80s, Bands, Guitar, Guns 'n' Roses, Hair, Metal, Retro, Slash, Van Halen, videos