» 1980s » General Hospi-Tale – The Afternoon Delights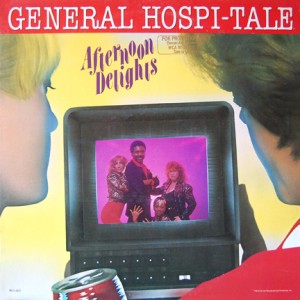 There is a certain charm in novelty songs, those quirky little musical nuggets that capture a moment in time with a popular song based on a pop cultural event.
How else can you explain "Pac-Man Fever" by Buckner and Garcia or "Disco Duck" by Rick Dees?
They're silly, stupid, disposable but certainly charming in small doses. Very small doses.
"General Hospi-Tale" by The Afternoon Delights is exceedingly stupid, anachronistic and disposable since it manages to name-check key plot points in the General Hospital soap opera circa 1980-1981. I'll happily place it on my growing list of the worst one-hit wonders ever.
Click to hear more of the worst one-hit wonders ever
But the song captured the attention of devoted General Hospital fans who just a few years later pushed "All I Need" by Jack Wagner (Frisco Jones on General Hospital) all the way to number 2 on the Billboard Top 40 in 1985.
People loved their soaps and General Hospital ruled the ratings roost back in the early 1980s. Today, not so much. In fact soap operas or daytime dramas in modern parlance are fast becoming an endangered species if the 2011 cancellations of One Life to Live and All My Children are any indication.
Listen to General Hospi-Tale by The Afternoon Delights
No matter, The Afternoon Delights managed to milk General Hospital and their disco-drenched half-rapped, half-sung hit into a song that reached #33 on the Billboard Top 40 in 1981. That transformed studio group, The Afternoon Delights, into a one-hit wonder. Something in their name tells me they knew they were likely one-hit wonder candidates, too. Sure, Afternoon Delights is a cute pun on watching soap operas in the afternoon. But it's also the single hit by the Starland Vocal Band who took "Afternoon Delight" all the way to number one back in the mid-1970s.
As for "General Hospi-tale," it's terrible. Really terrible. Another disco travesty like "Disco Lucy (I Love Lucy Theme)" that sullies the sometimes charming nature of disco classics like "The Hustle" by Van McCoy.
Click to hear more disco one-hit wonders
Filed under: 1980s · Tags: 1981, Afternoon Delight, Buckner and Garcia, disco, Disco Duck, Disco Lucy, disco one hit wonder, General Hospi-tale, novelty hit, novelty song, Pac Man Fever, Rick Dees, Starland Vocal Band, The Afternoon Delights, TV series, TV show, TV show one hit wonder, worst one hit wonders