» 1980s » Funkytown – Lipps Inc.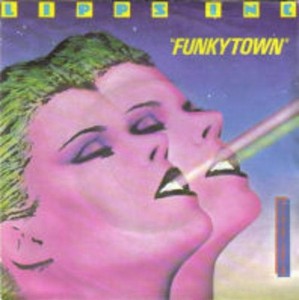 Here we have a pure classic one-hit wonder that seemingly everyone in the United States (and probably most of the world ) knows. It's "Funkytown" by Lipps Inc. from 1980. A song that spent four weeks at #1 on the Billboard Hot 100 charts in 1980. A song that was so good with a melody so immediately recognizable, it was a one-hit wonder six years later for an Australian group called Pseudo Echo.
Click to hear other Billboard number-one hit one-hit wonders
Listen to Pseudo Echo's version of "Funkytown"
Although "Funkytown" is one of the last disco songs to chart from the disco era (disco was dead and the public had placed a fork in its rotting corpse by 1980), to my ears it sounds like a natural transition from disco to new wave and dance music that took hold in American ears during the early 1980s.
Sister songs in terms of sound to "Funkytown" are "Pop Muzik" by M and "Cars" by Gary Numan. Synthesized, silly and enduring pop gems.
The vocals by lead singer and saxophonist Cynthia Johnson are pure disco. Smooth. Over produced. They wouldn't feel out of place on a song by Chic (you remember "Good Times" or "Dance, Dance, Dance" by this legendary disco group don't you?) or "I Love the Nightlife" by Alicia Bridges.
Since Lipps Inc. was a band in name only and really the studio creation of producer, it's no surprise they soon disappeared. But for a few weeks in 1980 (and for the last 30 years), "Funkytown" was the best sound in town.
Listen to "Funkytown"
Lipps-Inc-Funkytown.mp3
Filed under: 1980s · Tags: #1 hit, #1 song, 1980, Billboard number one hit, disco, Funkytown, Lipps Inc., number one song, one hit wonder, Pop, Pseudo Echo, Synthpop