» 1980s » Devo – Whip It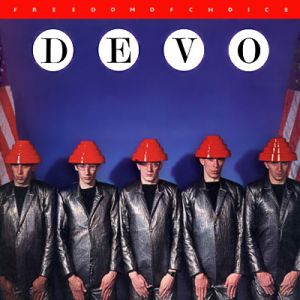 Very little can be said about "Whip It" that hasn't already been said. So we'll keep it brief and simple.
Yes, "Whip It" is Devo's only brush with Top 40 fame.
Yes, the song reached #14 on the Billboard Hot 100.
Yes, the song might be about S&M.
Yes, the song might also be about making a milkshake.
Yes, the song was very controversial when it was first released in 1980.
Yes, "Whip It" is widely and deservedly considered on the of definitive songs of the New Wave era.
Yes, "Whip It" is ranked #63 on VH1's ranked "Whip It" #63 on their list of the 100 greatest songs of the 80's and #15 on their list of the "100 Greatest One Hit Wonders of the 80s."
Yes, we still love it.
Click here to read the lyrics to "Whip It" by Devo
Listen to the song, which will then become an earworm and stay with you for weeks.
Listen to "Whip It" by Devo
Whip It - Devo
The story behind the "Whip It" video
One other thing: Here is the true story, straight from Devo on the making of this iconic video.
Devo funded the music video for "Whip It" with $15,000 of their own hard-earned dollars. The main focus of the video is lead singer Mark Mothersbaugh faux-whipping the clothes off a woman (this video appeared on MTV so the woman obviously stays clothed throughout the video). The inspiration for this controversial image was an article in a 1962 issue of "Dude" magazine.
We can only imagine how the members of Devo ended up reading a 1962 issue of "Dude" magazine in 1980..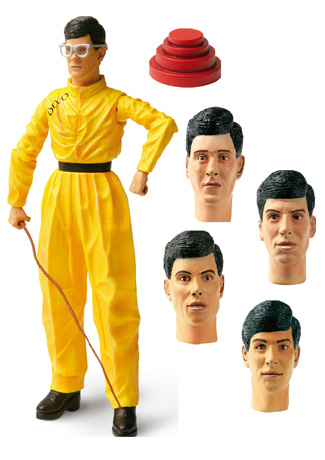 Regardless, in an interview for Songfacts, Devo founding member Gerald Casale explains "There was a feature article on a guy who had been an actor and fell on hard times, he wasn't getting parts anymore. He moved with his wife to Arizona, opened a dude ranch and charged people money to come hang out at the ranch. Every day at noon in the corral, for entertainment, he'd whip his wife's clothes off with a 12-foot bullwhip. She sewed the costumes and put them together with Velcro. The story was in the magazine about how good he was and how he never hurt her. We had such a big laugh about it, we said, 'OK, that's the basis for the video. We'll have these cowboys drinking beer and cheering Mark on as he's in the barnyard whipping this pioneer woman's clothes off while the band plays in the corral.'"
Early MTV was a wild, strange thing.
Filed under: 1980s · Tags: 1980, Devo, New Wave, one hit wonder, synthesizer, Synthpop