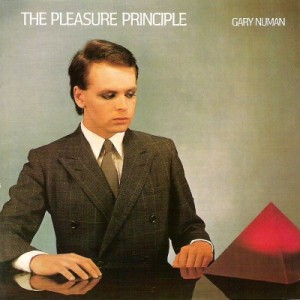 When "Cars" by Gary Numan was released in 1979, it sounded like nothing else on the pop charts. Cold. Mechanistic. Monotone. With a killer synthesized bass hook and a melody line that gets in your head and will not leave until you force it out by listening to the whistling theme from the Andy Griffith Show or perhaps the them from American Idol.
"Cars" was a massive contrast to the over-produced disco of the day or even the new synthesized sounds. Compare it to the joyous synthesized sounds of "Funkytown" by Lipps Inc. that was a #1 hit in May 1980 to hear the difference. And it didn't sound like the synthesized novelty sounds of "Pop Muzik" by M either, a #1 hit in 1979.
But it took hold and became an unlikely hit that reached #9 on the Billboard Top 40 in the summer of 1980.
Listen to "Cars" by Gary Numan
Gary-Numan-Cars.mp3
You can hear the influence of Giorgio Moroder's synthesizer stylings (heard on Donna Summer's early hits like "I Feel Love" and "Love to Love You Baby" on Numan's style. And you can hear the influence of Kraftwerk's "Autobahn" from 1974 on Newman. Discuss amongst yourselves, please.
Listen to "Computer World" by Kraftwerk
Kraftwerk-Computer-World.mp3
That's pretty amazing when you consider that Numan was a socially inept (later self-diagnosed with Aspergers Syndrome) twenty-one-year-old guy who still lived with his parents when "Cars" was riding high on the charts.
Numan never went on to great commercial success in the United States but had tons of hits in the United Kingdom and is a critical darling to fans including Trent Reznor of Nine Inch Nails and Dave Grohl of Foo Fighters. And he's still playing music and has released 16 albums since 1979's Pleasure Principle.
Not a bad career for a one-hit wonder poster child.
"Cars" video by Gary Numan
Filed under: 1980s · Tags: 1980, Cars, Gary Numan, keyboard, New Wave, one hit wonder, synth rock, synthesizer, Synthpop