» 1980s » All I Need – Jack Wagner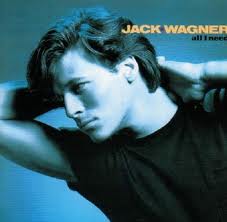 Soap operas have been launching pads for many singers, actors and actresses.
Jack Wagner was no fool and recognized opportunity when it presented itself back in 1985.
General Hospital was the biggest soap opera on the air. So big, in fact, that in 1981, the Afternoon Delights hit #33 on the Billboard Top 40 with their novelty song, "General Hospi-tale."
Get it? They switched "tal" with "tale" because they are telling the epic saga of General Hospital in song form. Wow, the 1980s were so, well, clever.
But I digress.
Wagner played guitar and had screaming female fans watching his every move. But Wagner was a triple-threat, meaning he could act, sing AND play guitar.
He put them all together and with the production oversight and genius of Quincy Jones, sang to all the lonely hearts who watched General Hospital religiously and pushed "All I Need" to #2 on the Billboard Top 40 in 1985, making Jack Wagner a one-hit wonder. In fact, it's a prototypical 1980s one-hit wonder ballad.
Click to hear more one-hit wonder ballads
Lyrics like these helped. A lot. What General Hospital fan hadn't fantasized about somehow winning Jack's heart?
Kissing you was not what I had planned
And now I'm not so sure just where I stand
I wasn't looking for true love
But now you're looking at me
You're the only one I can think of
You're the only one I see
Listen to All I Need by Jack Wagner
Alas, no more hits followed for Wagner and when he left General Hospital for good in 1995, he moved on to daytime soap Santa Barbara and nighttime soap, Melrose Place. But "All I Need" lives on and is probably playing on a "Soft Hits and Less Talk" radio station in an office someplace right now while an adoring administrative assistant sighs and imagine it's her on Wagner's arm and not long-time love interest, Heather Locklear. Yes, Jack Wagner and Heather Locklear have been linked since the late 1990s. Lucky guy.
Buy All I Need by Jack Wagner
Filed under: 1980s · Tags: 1985, actor, All I Need, ballad, General Hospi-tale, General Hospital, Jack Wagner, Love Song, one-hit wonder ballad, power ballad, The Afternoon Delights