» 1980s, Lists » 1983 One-Hit Wonders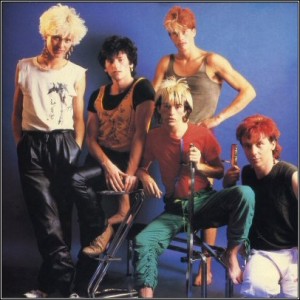 In our opinion, the period of 1982 – 1984 is is one of the most important in the history of popular music. It is during this time that many of the biggest-selling albums of all time were released, including Michael Jackon's Thriller, Bruce Springsteen's Born in the USA and Synchronicity by The Police, Madonna and Like a Virgin by Madonna.
We love 1983 because that's the year breakthrough albums from a number of influential artists were released.
Here's a short list for you: Murmur by R.E.M., War and Under a Blood Red Sky by U2, Power, Corruption and Lies by New Order, Construction Time Again by Depeche Mode, Texas Flood by Stevie Ray Vaughan, The Hurting by Tears for Fears and Pyromania by Def Lepard.
Some legendary stuff right there.
But there are a few one-hit wonders from 1983 that also left their mark on popular culture and still get airplay today. Arguably the four biggest songs of the year are "Come on Eileen" by Dexy's Midnight Runners, "She Blinded Me with Science" by Thomas Dolby, "In a Big Country" by Big Country and "Too Shy" by Kajagoogoo. Along with it we were charmed by neon colors, pink, spicy hair, effeminate-dressing men (see the photo of Kajagoogo above) and masculine-dressing women (see Annie Lennox of Eurythmics).
The mighty Brits broke through in a big way in '83 as New Wave songs increasingly were played on traditional radio stations.
You also had a couple of heaping slabs of cheese in the mix: "The Clapping Song" by Pia Zadora is awful no matter how you slice it.
And "Puttin' on the Ritz" by Taco is a disposable one-hit wonder along the same lines as "Mambo #5" by Lou Bega.
We also like to point out that "Far from Over" was recorded by Sylvester Stallone's brother, Frank. Yep, Frank rocks the Rocky-directed Stayin' Alive 2. Nepotism does have its priveleges.
Friends, enjoy this list of one-hit wonders from 1983. We love the '80s.
Hear the One-Hit Wonders of 1983
List of 1983 One-Hit Wonders
Filed under: 1980s, Lists · Tags: 1980s one hit wonder lists, 1983, 1983 1 hit wonder, 1983 one hit wonder, Baby Come to Me, come on eileen, dexy's midnight runners, Far From Over, Frank Stallone, kajagoogoo, New Wave, Pop, Puttin' on the Ritz, She Blinded me with science, Taco, too shy