» 1970s » You Light Up My Life – Debby Boone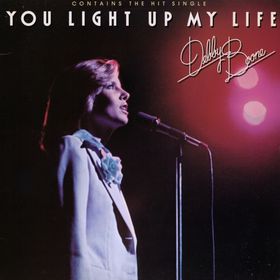 Ten weeks. Ten long weeks.
That's how many weeks "You Light Up My Life" by Debby Boone spent at the #1 position on the Billboard Hot 100. At the time, that was the longest-lasting #1 hit of all time.
Better than Elvis. Better than The Beatles. Better than everyone, in fact, until Boyz II Men landed at #1 for 13 weeks with "End of the Road" in 1991.
That's 70 days. That's 2.5 months. That's a really long time.
Click to hear other Billboard number-one hit one-hit wonders
Is "You Light Up My Life" that great of a song? Depends on who you ask.
Some people love this sentimental and uplifting song. My bet is that if you polled 100 random people who were at least 10-15-years-old in 1977, 90 of them could recount the first verse and chorus of the song, if not the entire thing.

So many nights I sit by my window
Waiting for someone to sing me his song
So many dreams I kept deep inside me
Alone in the dark but now
You've come along
CHORUS
You light up my life
You give me hope
To carry on
You light up my days
and fill my nights with song
Click to read You Light Up My Life lyrics
Sound familiar?
I loved the song when I first heard it. I liked the melody and thought Debby was cute, really cute.
Listen to You Light Up My Life by Debby Boone

But within a few weeks, I grew to loathe it. Not just dislike it but loathe it. And I was young at the time.
Was I cynical? Was it too sugary-sweet for even a young child who loved candy and Sugar Corn Puffs breakfast cereal?
I may never know. What I do know is that I rarely, if ever, listen to that song if I hear it on the radio or in a movie. For some reason, it grates on me.
But I can still rattle off that first verse and chorus that I'm certain will stay with me the rest of my days.
That's the mark of a song that leaves a lasting impression. A musical bruise of sorts.
Audiences remain divided to this day. Some love it. Some hate it. But nearly everyone recognizes "You Light Up My Life" as one of the most successful songs ever written and performed. In fact, "You Light Up My Life" sits at #7 on Billboard's All-Time Top 100 for massive sales and radio play.
Wow.
Debby Boone's version of the song also yielded major Grammy attention. Here is the short list of nominations and wins:
Best Pop Vocal Performance Female
Record of the Year
Best New Artist (win)
Favorite Pop single from the American Music Awards (win)
Song of the Year (win)
Best Original song at the 1977 Academy Awards (win)
Best Original Song at the 1977 Golden Globe Awards (win)
Love it or hate it (I hate it), you have to respect "You Light Up My Life" by Debby Boone.
Not surprisingly, the curse of the Best New Artist Grammy Award also nailed Marc Cohn and Amy Winehouse. These are distinctive artists who release a popular record and then never successfully follow it up. The jury is still out on Amy Winehouse, but Debby Boone and Marc Cohn both essentially disappeared after their big hits and Grammy Awards.
But "You Light Up My Life" plays on. Quite likely at a wedding near you tonight.
Filed under: 1970s · Tags: #1, #1 hit, #1 song, 1977, academy award, Academy Award Best Original Song, Amy Winehouse, ballad, Best New Artist Grammy Award, Best Original Song Grammy Award, Billboard number one hit, cheesy ballad, Debby Boone, Grammy Award, Marc Cohn, movie one hit wonder, movie soundtrack, movie soundtrack one-hit wonder, movie theme