» 1970s » TSOP (The Sound of Philadelphia) – MFSB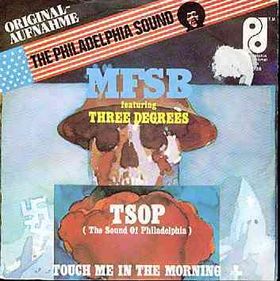 It's impossible to not love "TSOP (The Sound of Philadelphia)." It's sweet Philly soul. It's disco. It is written by Kenny Gamble and Leon Huff, the same guys who gave the world The O'Jays and many more soul bands. "TSOP" is recorded by MFSB. An abbreviation for Mother, Father, Sister, Brother and featuring soaring vocals by The Three Degrees. It reached #1 on the Billboard Hot 100. In fact, you can make a strong argument that it's the first disco song to top the Billboard charts.
All those accolades are well and good. But what really matters is that "TSOP" was the theme song behind Soul Train.
Don't know Soul Train? Stop what you're doing right now and go directly to YouTube to watch Soul Train videos.
While this is not technically an instrumental one-hit wonder, it's close enough that we're counting it. There are only two phrases in the song: "People all over the world" and "Let's get it on/It's time to get down." But you barely notice them. What you do notice is a bumping bass line, soaring horns, strings. In short, everything that made disco so perfect (and ultimately so hated).
Click to hear more instrumental one-hit wonders
We still love it and never grow tired of "TSOP." Listen to it now. It makes you smile, right. It makes you want to dance. It makes everything in the world alright.
The good listeners of 1974 obviously agreed because "TSOP (The Sound of Philadelphia)" hit #1 and stayed there for two weeks. Unlike many one-hit wonders, the song still charms today. And Soul Train wouldn't have been the same without it.
Click to hear other Billboard number-one hit one-hit wonders
As a one-hit wonder bonus, "TSOP" was recorded as a b-side for a single by Dexy's Midnight Runners. Yes, the same band that gave the world "Come on Eileen" recognized the brilliance of "TSOP." Their version pales in comparison, so drink in the disco flavors and goodness of the original version of "TSOP (The Sound of Philadelphia)" by MFSB.
Listen to "TSOP (The Sound of Philadelphia)" by MFSB
http://youtu.be/pzQcy0pazYo
Filed under: 1970s · Tags: #1 hit, #1 song, 1974, Apollo 100, Billboard number one hit, Deodato, disco, disco one hit wonder, Instrumental, instrumental one hit wonder, Joy, number one song, Philly soul, Soul