» 1970s » Theme from Love Story – Francis Lai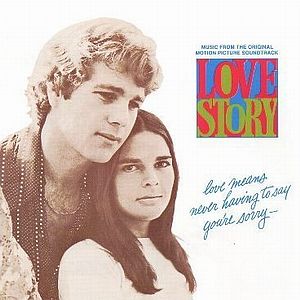 Another piano-driven one-hit wonder for you today. Like "Summer of '42" by Peter Nero, the "Theme from Love Story" by Francis Lai is pure piano perfection–at least in an early 1970s-movie-soundtrack kind-of-way.
Not sure what was in the water, but between 1970 and 1972, there were a bunch of piano/string hits for romantic movies. "Theme from Love Story" is arguably the most timeless (really, does anyone out there remember the "Airport Love Theme" even though it won a Grammy Award and sold over 1 million copies?)
"Theme from Love Story" debuted in the early '70s tearjerker, Love Story, starring Ryan O'Neal and Ali McGraw. People still tear up when they think about this movie and the song is wonderfully evocative (if you've seen the movie). If not, it probably sounds like elevator or department store music.
Francis Lai's version hit #31 on the Billboard Hot 100. Henry Mancini did even better, hitting #13 on the Billboard charts with his version (but he's no one-hit wonder). You can also lump Andy Williams into the mix as well, since his vocal version hit #9 on the Billboard Top 40. Again, Andy is no one-hit wonder, either.
It has been covered by everyone from Johnny Mathis, Shirley Bassey, Richard Clayderman, Miss Piggy and Barry Manilow. Basically, anyone who sings romantic songs has likely added "Theme from Love Story" to their set lists. Good reason too. As far as instrumental one-hit wonders, this song keeps giving and giving and giving. And making people weep uncontrollably as they think about Ali McGraw and Ryan O'Neal's Love Story (not to be confused at all with Taylor Swift's "Love Story.")
Click to hear more movie themes and instrumental one-hit wonders
Listen to Theme from Love Story by Francis Lai
Filed under: 1970s · Tags: 1971, Instrumental, instrumental one hit wonder, Movie, movie one hit wonder, movie soundtrack, movie soundtrack one-hit wonder, movie theme, piano, soundtrack