» 1970s » Popcorn – Hot Butter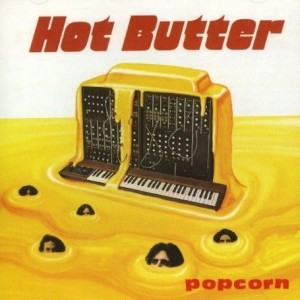 "Popcorn" is a remarkable piece of pop music because it's arguably the most famous early synthpop instrumental. You can lump songs like the "Axel F Theme" by Harold Faltermeyer into that same synthpop group.
Amazingly, this peppy little version by studio band Hot Butter was the third recorded version of "Popcorn" in three years. And it has been recorded by lots of other bands in the years since it hit the Billboard Top 40 in 1972.
Do you think there is any chance that Hot Butter existed as a band simply to record a song called "Popcorn." Discuss amongst yourselves.
Look at what the Moog synthesizer wrought. Don't know about the Moog synthesizer? It was a monophonic instrument (monophonic means only a single note could be played at one time, which is very different from a polyphonic instrument that could play lots of notes and voicings at one time…but I think this is getting a bit keyboard geeky here so let's keep things simple). That big thick synthesizer sound you hear on many early 1970s records? That's a Moog. You can hear it on "Hocus Pocus" by Focus. You can hear it on "Autobahn" by Kraftwerk, another early synthpop hit song. It's the lead instrument in "Joy" by Apollo 100. And, of course, it's basically the entire basis for "Popcorn" (plus what sounds like brushes on a snare drum provides the snappy, marchy beat).
This song was ridiculously popular and we're pretty sure you'll know it, even if you think you don't. You just never knew who performed this little, happy ditty that worked its way up the charts to a peak position of #9 on the Billboard Hot 100. That turned Hot Butter into a one-hit wonder. An instrumental one-hit wonder to be precise.
Click to listen to a gaggle of instrumental one-hit wonders.
Our favorite stat about "Popcorn": It's the 131st best-selling single of all time in France, having sold more than 900,000 copies. Good taste? Bad taste? Je ne sais pas.
Listen to "Popcorn" by Hot Butter
Filed under: 1970s · Tags: 1972, Apollo 100, Axel F, Harold Faltermeyer, Hocus Pocus, Instrumental, instrumental one hit wonder, Joy, Kraftwerk, synth rock, synthesizer, Synthpop