» 1970s » Overture from Tommy – Assembled Multitude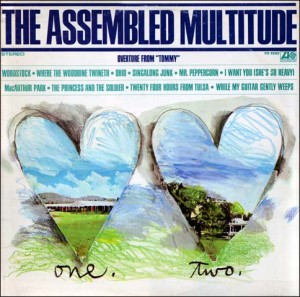 Like most rock music fans, I own Tommy by The Who.
Pete Townshend is a brilliant songwriter. Roger Daltrey a talented singer and frontman. Keith Moon, the most reckless drummer ever. And John Entwistle the rock at the low end of the sound.
But this version of "Overture from Tommy" has nothing to do with The Who. It's an instrumental one-hit wonder from 1970 that may actually be a better version than The Who's "Overture."
Sacrilege?
Blasphemy?
Listen for yourself and decide.
The Assembled Multitude was exactly that. An assembeled multitude of studio musicians who recorded one album of cover songs in 1970 and promptly disappeared. The "band" released a single album titled Assembled Multitude that included popular songs of the day like "While My Guitar Gently Weeps" by The Beatles, "Ohio" by Crosby, Still, Nash and Young and the 1968 one-hit wonder, "MacArthur Park," by Richard Harris.
"Overture from Tommy" was the hit and reached #16 on the Billboard Top 40 in 1970 making Assembled Multitude a one-hit wonder. An instrumental one-hit wonder to be precise.
Click to hear more instrumental one-hit wonders
Listen to Overture from Tommy by Assembled Multitude
(NOTE: Video may not work on iPad or iPod but WORKS on computers)

Filed under: 1970s · Tags: 1970s one hit wonder, Instrumental, instrumental one hit wonder, The Who