» 1970s » Nadia's Theme – Barry De Vorzon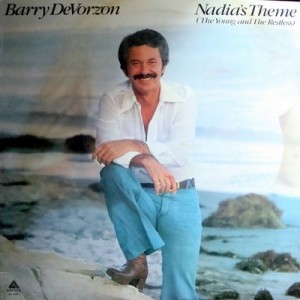 Let's turn down the lights and get a little sensitive now. "Nadia's Theme" is another unlikely 1970s one-hit wonder. But it's not the only instrumental one-hit wonder to grace the Billboard Top 40. You can also add "Chariots of Fire Theme" by Vangelis, "Hooked on Swing" by Larry Elgart and His Manhattan Swing Orchestra and the "Love Theme from St. Elmo's Fire" by David Foster to name just a few.
Click to hear more instrumental one-hit wonders.
The amazing thing about "Nadia's Theme" is that the song wasn't even originally titled "Nadia's Theme." In fact, it was originally called "Cotton's Dream." It became "Nadia's Theme" after ABC TV's classic Wide World Of Sports used the music for a video montage of Romanian gymnast Nadia Comăneci's routines during the 1976 Summer Olympics. This was during the Cold War and Nadia was smoking hot. The first gymnast to receive multiple perfect scores for her routines in the Olympics.
BRIEF PERSONAL DIVERSION
I learned this on the piano when I was eight-years-old. I was so proud of myself. I thought a career as a movie composer was in the cards for me. Not so much.
END PERSONAL DIVERSION
One month after the 1976 Olympics ended, "Nadia's Theme" was released and Barry De Vorzon had a hit on his hands. A hit that reached #8 on the Billboard Top 40 in 1976.
Unfortunately, the record company neglected to credit De Vorzon on the first pressings of the single so Barry sued his label and later recovered nearly $300,000 for "Cotton Fields," er, "Nadia's Theme."
Yeah, it was also the theme music to the soap opera The Young and the Restless. But I didn't watch soap operas. That was for sissies. I watched Olympic gymnastics instead (insert your own version of sissy joke here). So I'll always remember it best as a tribute to Nadia Comaneci–even though it wasn't written for her in any way, shape or form.
Instrumental one-hit wonders are magical things. They're even better when they are TV Theme Songs just like "The Greatest American Hero (Believe It Or Not)" by Joey Scarbury.
Listen to Nadia's Theme
Filed under: 1970s · Tags: 1976, David Foster, greatest american hero, Hooked on Swing, Instrumental, instrumental one hit wonder, Joey Scarbury, TV show, TV theme, Vangelis, Walter Murphy