» 1970s » Midnight at the Oasis – Maria Muldaur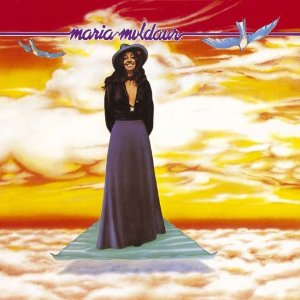 I love when a friend dumps a bunch of old records on me. It has happened for years since I'm one of the few people who has always has at least one turntable with a Shure cartridge and stylus hooked up to the stereo. In my opinion, one of life's most satisfying visceral experiences is digging through stacks of vinyl in search of one or two gems.
My friend gave me at least 150 records and I gave back about 100 of them. But the LPs I kept included great new wave albums, a few rock classics, and a record I've read about but never heard titled Maria Muldaur by Maria Muldaur.
This well-reviewed record from 1974 includes a song many assume makes Maria a one-hit wonder, "Midnight at the Oasis." That's because "Midnight at the Oasis" reached #6 on the Billboard Top 40 and is the only song 99-percent of people who even recognize Muldaur's name have ever heard.
In fact, Maria Muldaur actually charted two hits in the Billboard Top 40, "Midnight at the Oasis" and "I'm a Woman" that reached #12 on the Top 40. So Maria Muldaur is technically a two-hit wonder. Who knew?
Regardless of semantics, the charms of "Midnight at the Oasis" are unmistakable. It's a breezy, jazz-influenced song full of suggestive lyrics that evoke the songwriting of Cole Porter's "Let's Do It (Let's Fall in Love)" from decades earlier. Put simply, Maria wants to take her guy out back and make a man out of him. It's a lot more subtle than that, but 1970s listeners got the picture and turned this song into a smash hit.
Click to read Midnight at the Oasis Lyrics
As for the Maria Muldaur record itself, it's actually quite enjoyable. Maria can sing. The boys on the record can definitely play and Muldaur is backed by such studio luminaries as Ry Cooder and Clarence White (later of The Byrds) on acoustic guitar. Dr. John on keyboards. Dave Holland, Klaus Voormann and jazz legend Ray Brown on bass. Jim Keltner and Jim Gordon shared drum duties and David Grisman added tasteful mandolin throughout.
With players like that backing you, it's hard to go wrong. And it's a perfect example of why I still eagerly accept someone's "box of old records" whenever they offer. Sure, most of that box will be filled with records from artists like Dennis DeYoung, fellow two-hit wonder Teena Marie or the Axel F Theme on the Beverly Hills Cop soundtrack. These are songs or albums you may already own or possibly despise. But when you find a gem like Maria Muldaur, it's all worth it. Consider the exceptional guitar solo on this song a bonus.
By the way, if you like Muldaur's sound, I expect you'll also like "What I Am" by Edie Brickell and the New Bohemians, a 1988 one-hit wonder. Brickell's debut record, Shooting Rubberbands at the Stars sounds remarkably similar to Maria Muldaur.
Listen to Midnight at the Oasis by Maria Muldaur
Filed under: 1970s · Tags: 1974, David Grisman, Dr. John, Jazz, two hit wonder