» 1970s » Knock on Wood – Amii Stewart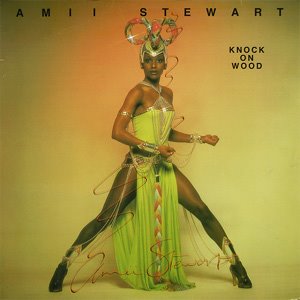 Even if Amii Stewart didn't have two "iis" in her first name because one obviously wasn't enough.
Even if "Knock on Wood" wasn't an enduring disco one-hit wonder.
Even if no one remembered "Knock on Wood" all these years later (plenty of people still do, of course).
I would still have to honor Stewart for her gutsy fashion choice for her album cover. Not many men or women can select such a, well, I'm not really sure what that outfit represents.
Is she a modern Egyptian goddess? A disco queen? A late-1970s aerobics instructor?
No one is really sure.
What the world does know is that Amii Stewart burst upon the disco scene in 1979 with her discofied cover version of Eddie Floyd's classic "Knock on Wood." Dance floors and rolling staking rinks were rocked as the thundering bass of this disco smash blasted from the Peavey speakers hanging from the roof (along with the mirrored ball).
Listen to Knock on Wood by Amii Stewart
This is a cover version so good, so monumental, it sold more than 1 million copies, which translated to a Platinum album for Stewart. It also translated to a Grammy Award nomination in 1979.
Click to hear more Grammy Award winning and nominated one-hit wonders
"Knock on Wood" reached #1 on the Billboard Top 40 in 1979 making Amii Stewart a one-hit wonder. This was during the dying days of disco, so to sell more than 1 million copies of record at the same time "Disco Sucks" rallies were happening is a major achievement.
Click to hear other Billboard number-one hit one-hit wonders
Unfortunately, this monster hit never translated to more hit records and Stewart faded from memory. But the song remains a classic.
Amii. II love it.
Filed under: 1970s · Tags: #1 hit, #1 song, 1979, Amii Stewart, Billboard number one hit, disco one hit wonder, Grammy Award, Knock on Wood, number one song