» 1970s, Featured » Joy – Apollo 100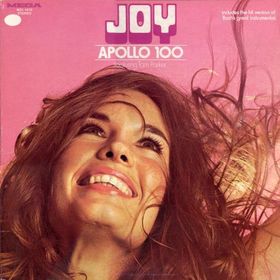 We love the silly, distinctive instrumental one-hit wonders that break through all the traditional pop music to become an unexpected hit. "Joy" by Apollo 100 definitely fits that description. Who would have guessed that a rock version that is basically a note-for-note remake of "Jesu, Joy of Man's Desiring" by Johann Sebastian Bach would ever become a hit that was played on Casey Kasem's American Top 40 radio show.
Then again, in the early 1970s, rock music was still evolving. There were no set genres yet. You could turn on the radio and hear the progressive rock of "Fragile" by Yes followed by "Come and Get Your Love" by Redbone. It was a way better era for radio.
"Joy" is silly, inessential fun. But a popular enough arrangement to reach #6 on the Billboard Top 40 in 1972. Not surprisingly, follow-up efforts met with little audience interest and Apollo 100, which was really just a studio band anyways, broke up.
Click to hear more British One-Hit Wonders
But classical songs set to rock or disco beats was far from over. Just a few years later Deodato took "Also Sprach Zarathustra" to #2 on the Billboard Hot 100. Then in 1982, "Hooked on Classics" by the Royal Philharmonic Orchestra reached #10 on the Billboard Top 40.
Click to hear even more Instrumental One-Hit Wonders
One other side note: the original version of "Joy" was recorded by British band Jigsaw, who is actually a three-hit wonder but is really only remembered for their 1975 hit, "Sky High." We're including it below because it's an example of a band that people think is a one-hit wonder, but isn't. Plus, we love the song. And any song that has a drummer as the lead singer gets bonus style points in our book.
You can find "Joy" on the soundtracks of the films Boogie Nights, One Day in September, and The 40-Year-Old Virgin.
Listen to "Joy" by Apollo 100
Listen to "Sky High" by Jigsaw
Filed under: 1970s, Featured · Tags: 1972, British, British band, British one-hit wonder, Deodato, hooked on classics, Hooked on Swing, Instrumental, instrumental one hit wonder, Vangelis