» 1970s » I'm Easy – Keith Carradine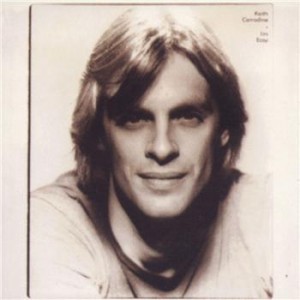 Academy Award-winning one-hit wonders are fairly rare. A look of Oscar-winning songs reveals the Academy clearly favors proven, conservative choices.
But a few one-hit wonder pop songs have been either nominated or awarded the Academy Award for Best Original Song, including:
Add today's entry by Keith Carradine to that list.
Carradine's song, "I'm Easy" reached #17 on the Billboard Top 40 in 1976 making Keith Carradine a one-hit wonder. The song was featured in the Oscar-nominated Robert Altman film, Nashville, a movie that was nominated for a slew of Golden Globe and Academy Awards in 1975, but didn't win any (besides Best Original Song).
Click to hear Academy Award one-hit wonders
"I'm Easy" is about as easy listening of song as you'll ever hear. Keith's voice. An acoustic guitar. That's it.
It's the kind of song that would rarely get airplay today but perfectly represented the 1970s singer-songwriter movement that also included James Taylor, Bruce Cockburn, J.D. Souther with "You're Only Lonely", Dave Loggins with "Please Come to Boston" and hundreds of others sensitive guys with guitars.
Click to hear more songs by singer-songwriter one-hit wonders
Keith Carradine is part of the Carradine acting dynasty that also included David Carradine (Kung Fu, Kill Bill), Robert Carradine (Revenge of the Nerds). Keith Carradine is also the father of Martha Plimpton, an actress and cousin of famed writer George Plimpton. Some serious connections here, folks.
Carradine never again hit the Billboard Top 40, but enjoyed a brief musical career. But unlike most of his one-hit wonder peers celebrated here at toponehitwonders.com, he's one of the very few to ever win an Academy Award and Golden Globe Award in the same year.
He made it seem so easy.
Listen to I'm Easy by Keith Carradine
Filed under: 1970s · Tags: 1970s one hit wonder, 1976, 70s one hit wonder, academy award, Academy Award Best Original Song, Bill Conti, Debby Boone, Golden Globe Award, Jai Ho, Keith Carradine, movie one hit wonder, movie soundtrack, movie soundtrack one-hit wonder, movie theme, Movies, one hit wonder of the 1970s, one hit wonder of the 70s, singer songwriter