» 1970s » I'd Like To Teach The World To Sing (In Perfect Harmony) – The Hillside Singers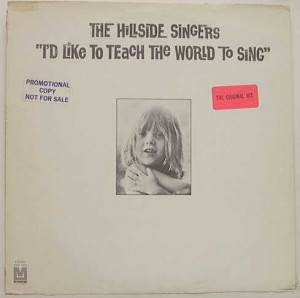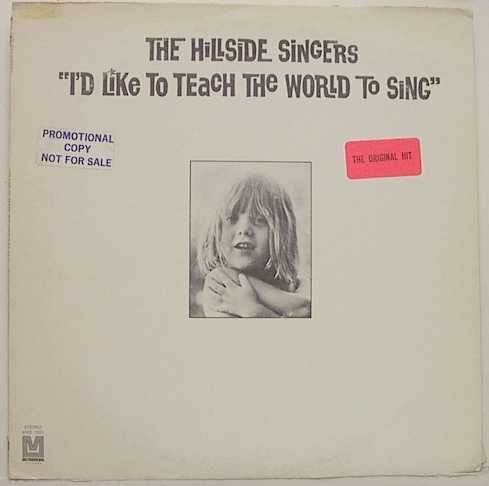 It's one of the most influential and well-regarded TV commercials ever. A bunch of young, fresh-faced, multi-cultural kids singing "I'd like to buy to world a Coke/and keep it company."
Remember the Coca-Cola ad from 1971? Even if you weren't alive then, you've probably seen the ad or at least heard the song since variations on the theme have popped up in Coke ads in 1971, 1990, 2006, 2007 and 2010.
But I'll bet you an authentic New Coke that you can't name the band who first recorded the song.
That would be The Hillside Singers, and calling them a band is generous since they were a studio creation concocted by Coke's ad agency McCann-Erickson for the TV commercial. Although The Hillside Singers weren't the first choice. "I'd Like To Teach The World To Sing (In Perfect Harmony)" was first offered to the New Seekers, who determined they were "too busy" to bother with the song.
So The Hillside Singers recorded the song. The group of beautiful multi-cultural kids lip-synced the song on a hill in Italy, and a legendary TV spot was born. And yes, "I'd Like To Teach The World To Sing (In Perfect Harmony)" by The Hillside Singers reached #13 on the Billboard Top 40 in 1972 making The Hillside Singers a one-hit wonder.
Watch the 1971 Coca-Cola Commercial Featuring I'd Like To Teach The World To Sing (In Perfect Harmony) by The Hillside Singers
Once the song became a top-20 hit and the ad became what can only be termed a 1970s viral sensation, folk band The New Seekers decided to throw down their own version of the song. Clearly a little name recognition goes a long way because while The Hillside Singers version sold more than 1 million copies, the New Seekers sold more than 12 million.
Twelve million records will buy a lot of Cokes. Maybe enough to have us all singing in perfect harmony.
But life doesn't work quite that simply. But it sure sounded nice for the 60 seconds it takes for the ad to appear before your eyes and leave a lasting impression on your inner flower power being.
Listen to I'd Like To Teach The World To Sing (In Perfect Harmony) by The Hillside Singers
Listen to I'd Like To Teach The World To Sing (In Perfect Harmony) by The New Seekers

The Hillside Singers
Filed under: 1970s · Tags: 1972, Coca-Cola, Coca-Cola commerical, Coke commercial, Coke Hilltop Commercial, folk music, I'd Like To Teach The World To Sing (In Perfect Harmony), The Hillside Singers, The New Seekers