» 1970s » Feelings – Morris Albert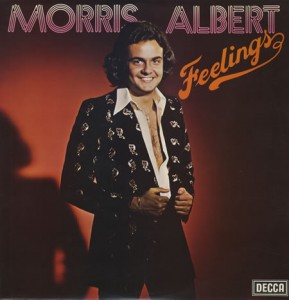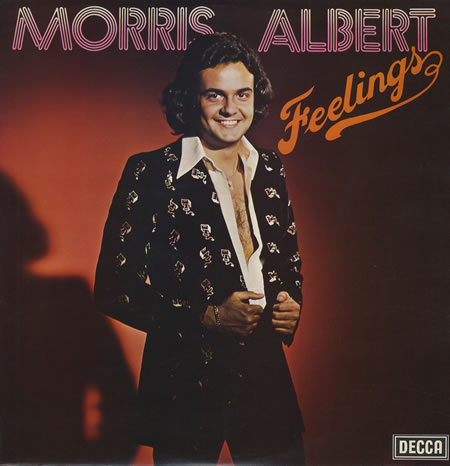 You could start today and write songs the rest of your life and never, ever write anything half as sensitive as "Feelings" by Morris Albert.
This song is so weepy, sensitive and in touch with its inner goodness and sadness, it makes me want to hurl.
There must have been something in the water in 1975 that inspired songwriters to produce easy listening dreck that captured the sensitive zeitgeist but holds absolutely no relevance today.
In one year alone, Casey Kasem counted down the hits and found "Feelings" by Morris Albert, "I'm Not Lisa" by Jessi Colter and "The Last Farewell" by Roger Whitaker in the Billboard Top 20.
Who was buying all these records? Was there a record store rush by people over the age of 65?
In a year that also gave us the tremendous "Magic" by Pilot, the enduring "How Long" by Ace and "The Hustle" by Van McCoy, pop radio listeners had to endure all of these feeling songs.
Call me shallow, but I would rather dance "The Hustle" all night than hear "Feelings" ever again.
Listen to Feelings by Morris Albert
Morris Albert was a Brazillian artist who released his first record in 1974 that featured "Feelings." The song exploded in a gooey mess of over-the-top emotion and soon sold more than 1 million copies and was covered by people as diverse as Ella Fitzgerald and Frank Sinatra. Albert was riding high when "Feelings" was nominated for a Grammy Award for Song of the Year in 1976. The amazing or disturbing thing is that he lost to "Send in the Clowns" by Judy Collins, another ridiculously sensitive ballad. Albert was also nominated for the Best New Artist Grammy Award. He lost to Natalie Cole, daughter of Nat King Cole.
The Best New Artist Grammy Award has not been kind to many of its recipients, including Marc Cohn, Amy Holland, The Starland Vocal Band, Debby Boone and Amy Winehouse, all artists who received or were nominated for the Grammy Award and soon disappeared from the scene.
Click to hear more Best New Artist Grammy Award One-Hit Wonders
Click to hear more Grammy Award One-Hit Wonders
Albert never again reached the Billboard Top 40. But "Feelings" by Morris Albert reached #6 on the Billboard Top 40 in 1975 making Morris Albert a one-hit wonder.
This one goes to the top of my list of worst one-hit wonders ever.
Click to see more of the worst one-hit wonders
Sorry Mr. Albert. I just feel that strongly about your song.
Filed under: 1970s · Tags: 1975, ballad, cheesy ballad, Feelings, Love Song, Morris Albert, one hit wonder love song, one-hit wonder ballad, sensitive ballad, worst one hit wonders