» 1970s » Dynomite Part 1 – Tony Camillo's Bazuka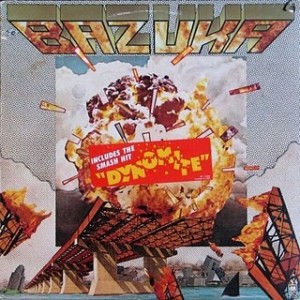 Disco started in the gay night clubs of New York City in the mid-1970s. It became mainstream following Saturday Night Fever's success in 1977 and was a cursed and hated genre by 1979 when "Disco Sucks" slogans appeared on everything from t-shirts to bumper stickers.
One of the biggest complaints is that disco was produced by studio groups who didn't tour, didn't perform but merely churned out records that all sounded the same. If you were a punk rock fan who aspired to their Do It Yourself or DIY ethos in the classic punk era of 1976-1978, you HATED disco.
If you were a Rolling Stones fan, you hated disco — until your beloved band churned out "Miss You" in 1978 and you had to admit that, yes indeed, the Stones were a pretty great disco band for a short time during the late 1970s.
Today's disco entry is a pure studio creation helmed by producer Tony Camillo, who over the years worked with artists as diverse as Dionne Warwick, The Stylistics, Stevie Wonder, Glady's Knight, Sha Na Na, Peaches & Herb, Dazz Band, The Supremes and even Parliament.
He created Bazuka and released a single album titled Bazuka in 1975. That 11-song album featured "Dynomite," which reached #10 on the Billboard Top 40 in 1975 making Tony Camillo's Bazuka a one-hit wonder.
Listen to Dynomite Part 1 by Tony Camillo's Bazuka
No one remembers the record. Few people remember the band. But lotsa music listeners remember "Dynomite" for its fusion of funk and disco into an infectious disco one-hit wonder.
Click to hear more disco one-hit wonders
While it's technically not an instrumental one-hit wonder, only a single word is spoken: Dynomite. So I think it's fair to consider it an instrumental one-hit wonder as well. As a side note, I love the piano riff that echoes the horn riff. Brilliant.
Click to hear more instrumental one-hit wonders
Ladies and gentleman, please welcome Tony Camillo's Bazuka to the dance floor.
Buy Dynomite Part 1 by Tony Camillo's Bazuka
Filed under: 1970s · Tags: 1975, 1975 one-hit wonder, disco, disco one hit wonder, Dynomite Part 1, funk, Funky, Instrumental, instrumental one hit wonder, Tony Camillo's Bazuka