» 1970s » Disco Duck – Rick Dees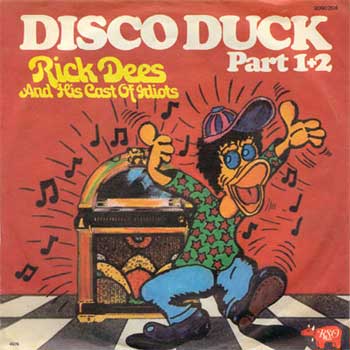 We love a good novelty song. They're simple. They're disposable. They remind you that the American public is often fascinated by supreme silliness. At least for a few weeks.
That's what you hear in "Disco Duck" by Rick Dees. A #1 hit from 1976 that emerged just as disco music was emerging from the gay nightclubs of New York City and appearing on top 40 stations around the country.
Click to hear other Billboard number-one hit one-hit wonders
You have to give Dees credit for launching the silly concept song and anticipating the disco boom. In 1976, Saturday Night Fever had not yet been released. The Bee Gees were just developing their disco sound with the 1975 hit "Nights on Broadway" and "Jive Talking." Barry Gibb had just discovered his fail-proof falsetto.
But disco was emerging. In fact, the week before "Disco Duck" topped the charts, "A Fifth of Beethoven" was the number one song in America. With classical disco reaching number one, anything was possible.
That anything manifest itself in the sheer silliness of "Disco Duck" as Dees transformed a gag that started on his radio show in Memphis, Tennessee into a full-blown disco phenomenon.
And to bring this disco goodness full circle, "Disco Duck" did appear in Saturday Night Fever but was not on the soundtrack. Since that is the second highest-selling album of all time (behind on Thriller by Michael Jackson), Dees nearly placed arguably the biggest disco novelty hit on a monster record. Almost. His manager at the time nixed the idea thinking that placement on Saturday Night Fever would somehow clash with Dees' own record sales.
Wow. Bad, bad business decision. At a royalty rate of $.06 per unit sold, and Saturday Night Fever sales topping 35 million copies, "Disco Duck" would have earned more than $2 million over the years from album sales only.
I'm thrilled it didn't make the cut because it really would have sullied the overall excellence of that double album. "Disco Duck" is a novelty song. It's a novelty hit. But it's not an excellent disco song. For that, let me recommend "Disco Lucy." Actually, listen to that song as an example of one of the worst-ever disco songs. Simply horrible. It makes "Disco Duck" sound like Beethoven's Fifth Symphony, which you can enjoy in it's disco version supplied by Walter Murphy's "A Fifth of Beethoven."
Bad business decisions aside, Dees has had a successful career in the music business with a hosting gig on Solid Gold and a longtime show on KISS FM in Los Angeles. He's doing just fine financially, thank you very much.
Listen to Disco Duck by Rick Dees
Filed under: 1970s · Tags: #1, #1 hit, #1 song, 1976, Billboard number one hit, disco, Disco Duck, disco one hit wonder, novelty hit, novelty song, number one song, Saturday Night Fever, The Bee Gees