» 1970s » Also Sprach Zarathustra – Deodato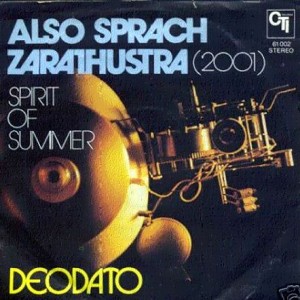 Also Sprach Zarathustra is one of the best-known instrumental one-hit wonders. You know the famous phrase: Dum. Dum. Dum. Da-dum!
Very dramatic stuff.
Of course, you probably also know the movie that made this song famous: 2001: A Space Odyssey by Stanley Kubrick. It's a must-see film and widely considered one of the greatest of all time.
The song is based on the original music composed by Richard Strauss way back in 1896. So, like "Joy" by Apollo 100 and "Hooked on Classics" by the Royal Philharmonic Orchestra, it's a classically influenced one-hit wonder. And I'll argue all day that this is likely the funkiest jazz fusion-influenced one-hit wonder as well. Arranger Deodato put together a crack jazz fusion band who turned "Also Sprach Zarathustra" into a lasting hit song that also won the 1973 Grammy Award for Best Pop Instrumental Performance. At the same time, it hit #2 on the Billboard Hot 100 in the United States, #3 in Canada and number seven in jolly old England.
Today, the theme plays as the South Carolina gamecocks football team enters the stadium and fans of jam band Phish know the song as "2001" since the boys in the band played it hundreds of times at shows.
Click to hear even more Instrumental One-Hit Wonders
Dum. Dum. Dum. Da-dum! Play it loud and proud.
Listen to Also Sprach Zarathustra by Deodato
Filed under: 1970s · Tags: 1973, Apollo 100, Best Pop Instrumental Performance Grammy Award, classical, Grammy Award, hooked on classics, Hooked on Swing, Instrumental, instrumental one hit wonder, Joy, movie one hit wonder, movie soundtrack, movie soundtrack one-hit wonder, movie theme