» 1960s » More Today Than Yesterday – Spiral Starecase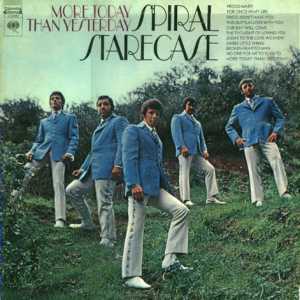 Few songs are more joyous, more ebullient than "More Today Than Yesterday" by Spiral Starecase.
You could be a cynic. You could be depressed. You could be a misanthrope. But I doubt you could hate "More Today Than Yesterday."
It's too happy. It's too innocent. It's too, well, brilliant. And if you watch Spiral Starecase perform "More Today Than Yesterday" and keep your eyes focused on the shuffling feet of bass-playing Bobby Raymond, I'm certain you'll fall in love with this song (or at least the moment).
This might be the greatest song you could ever play at a funeral for a dearly departed friend. I'm serious.
"More Today Than Yesterday" is pure one-hit wonder goodness.
Pat Upton's vocals are impressive as he climbs the range to the chorus. Even more impressive is that Pat can still hit the high notes today. Not many men past their sixties can rock the high notes, but Upton has that rare gift.
This Sacramento, California-based band that started as the Fydallions in 1964 (the year Beatlemania broke and yes, Fydallions is one of the all-time worst names for a band) was rechristened Spiral Starecase for their debut single. And what a brilliant piece of songwriting.
Listen to More Today Than Yesterday by Spiral Starecase
They released "More Today Than Yesterday" as a single in 1969, when it reached #12 on the Billboard Top 40 and sold over one million records. The band rushed an album out to support the single, but like so many one-hit wonders, the magic was gone already.
Click to read More Today Than Yesterday lyrics
Eighteen months after their hit, Spiral Starecase was gone, too (they were also called Spiral Staircase by people whose fears of censure by their seventh-grade English teacher wouldn't allow them to mis-spell such a simple name).
But Spiral Starecase are proud members of the elite one-hit wonders club. For that, and this bouncy, horn-filled pop song, you deserve lasting respect.
Words can barely express how happy this song makes me. But what makes me almost deliriously happy is the connections between Spiral Starecase, two-hit wonder Brenda K. Starr and one-hit wonder Deodato.
Crazy Connection Between Spiral Starecase, Brenda K. Starr and Deodato
Check this out: Spiral Starecase keyboard player, Harvey Kaye (now known as Harvey Kaplan), is the father of Brenda K. Starr, who is a two-hit wonder for her hits "What You See Is What You Get" and the smash, "I Still Believe" that was produced by Eumir Deodato who hit the Billboard Top 40 for his #2 hit Also Sprach Zarathustra.
That is an awe-inspiring musical connection that spans three decades. Three hits. Three decades. Who knew?
For now, swing to the happy sounds of "More Today Than Yesterday." It is absolutely one of my favorite all-time one-hit wonders.
Filed under: 1960s · Tags: 1969, Brenda K. Starr, Deodato, happy music, happy song, Harvey Kaye, horns